The 24th GTI Asia Taipei Expo will take place on May 11-13, 2017 at Zone A of the Taipei World Trade Center and central Taiwan-based Xiang Shang Group has signed up for the event for the first time. The company will take an exhibition space spanning 540 square meters to present its current stage of business development in three major sectors, which include, first, game development and operation; second, game connection and comprehensive platform services; and third, the LAN Base comprehensive internet cafe platform services. For these three sectors of business, Xiang Shang Group has its own R&D, customer service, QA and sales teams and can directly provide clients the most immediate and effective support.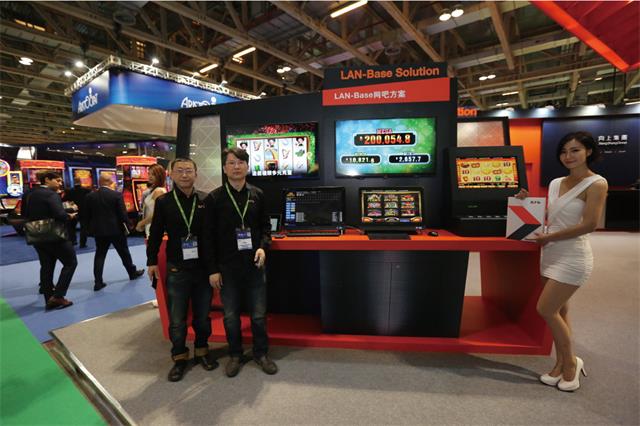 Xiang Shang Group displays the LAN Base comprehensive internet café platform services.
Possessing a profound foundation for independent development and independent operation, Xiang Shang Group is a one-stop shop for comprehensive service solutions and holds the leading position in the industry in terms of experience and efficiency. In 2016, the company participated in G2E Asia held in Macau for the first time and successfully captured the eyes of all media and buyers with a dazzling, spectacular exhibition stand. At the show, Xiang Shang emerged as a new star with the greatest potential. In the first half of 2016, the company started cooperation with the Taichung City Government as well as Asia University and Feng Chia University in Taiwan in an attempt to assist young Taiwanese to reach the international arena through app development.
Since the release of "Sango Warlord" in 2006, Xiang Shang has successfully penetrated the markets of Malaysia and Singapore. Between its launch of "Lao Zi You Qian" in 2011 and now, the company has expanded its business to Malaysia, Thailand, Vietnam, Myanmar, Cambodia, Singapore and North Asia's Japan and Korea. GTI Asia Taipei Expo wholeheartedly welcomes this new exhibitor, which is also the company booking the biggest space for the 2016 event so far. With its dates set in close proximity to G2E Asia (May 16-18) in Macao, GTI Asia Taipei Expo 2017 will enable buyers coming from far around the world like Europe and the US to visit the two shows in one trip to Asia. Buyers will have abundant time to conduct business networking and make purchases as well as enjoy the beauty of the different cities. For information about GTI Asia Taipei Expo, please contact gametime@taiwanslot.com.tw or visit www.gtimagazine.com.tw.