On May 10-12 the 25th GTI Asia Taipei Expo, which is jointly organized by the Taiwan Amusement Machine Association (TAMA), the Taiwan Digital Entertainment Association (TDEA) and Haw Ji/GTI, will be taking place at Area A, Hall 1 of the Taipei World Trade Center.
This year's event will use "new amusement and creative intellect, brilliantly converge" as its theme and present a wide variety of exhibits. There will be slot games, pachinslot games, pachinko machines, 15-line games, game related parts, simulator video games, coin-op machines, redemption games, kiddie rides, VR/AR, air hockey tables, basketball arcade machines, cabinets, bingo games, roulette machines and coin-pushers as well as the current hottest crane machines and prize machines.
Moreover, many game developers have exciting activities under way. Saint-Fun has China Cup-Street Basketball while IGS holds tournaments for its top-selling dance game "Danz Base". After the Danz Base Asia Cup 2017 in Bangkok, Thailand sparked a wave of dance crazes, the 3rd Asia Cup in 2018 continues to adopt the division competition concept. The 1st Asia Cup was held in Guangzhou, China and the 2nd Asia Cup was in Bangkok, Thailand. With the 3rd Asia Cup scheduled to take place in Jakarta, Indonesia, the preliminary matches have officially kicked off this April in various Asian countries. The matches are getting increasingly exciting and boisterous. Intense battles are occurring to select the top dancers to represent the countries to compete in the grand final in Jakarta this October in order to seize the throne of the Asia dance king. Then the top-notch dancers from various Asian countries will meet again to contest with the highest level of dance skills and also enjoy the fun of making friends through the dance sports!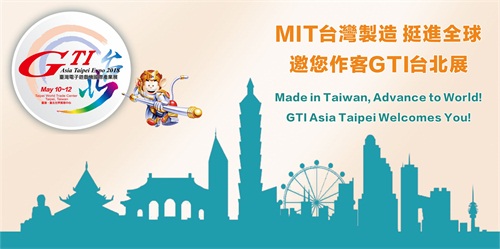 More activities will be held at Hall 1 of the Taipei World Trade Center on May 10-12. We believe that Taiwan's high-quality products, natural beauty, exquisite cuisine and warm, friendly people are the foundation for us to successfully promote MIT (Made In Taiwan) brands and products. GTI wholeheartedly welcomes clients and media friends at home and abroad to visit!