The 13th GTI Asia China Expo has ended successfully, and there were many surprises and some disappointments during the expo! The postponement of the event from September to November was an adjustment that had to be made in response to the epidemic in some parts of mainland China. In any case, under the policy of epidemic prevention and control, GTI Asia China Expo still attracted industry peers from all over China, which has showed the brand charm of GTI expo. We speak through our strength, present good products and ideas, gather more diverse and rich exhibits, and make the exhibition splendid. Therefore, buyers from afar purchased satisfactory amusement equipment. This not only brought 2021 to a successful end, but also stores up energy to lay the groundwork for 2022. We published Debut of Excellent Products at GTI Asia China Expo 2021 in the past few issues of Game Time International, and also made some complements in this issue. We look forward to meeting global manufacturers gathering in Guangzhou in golden September, 2022, and you will witness the joy of intelligent manufacturing in China.
Guangzhou Kunhe Animation Technology Co., Ltd.
Founded in 2015, Kunhe specializes in the R&D, production, sale, and service of children's amusement equipment. With many years of development, Kunhe has gathered rich experience in products development, quality management, and cost control and its products have been popular with customers. At present, the main products of Kunhe include card machines, water gun machines, water shooting machines, and gashapon machines. For many years, Kunhe has been continuously committed to providing the high-quality products featuring Chinese characteristics that help to promote the well-rounded development of children
Mika
Features:
1. Thickened plastic injection hardware cabinet.
2. Stylish appearance, bright colors, and sweet style.
3. The machine can place children's favorite cards and gashapons.
4. Simple gameplay.
Colors: pink, yellow
Voltage: 220v
Main material: hardware + acrylic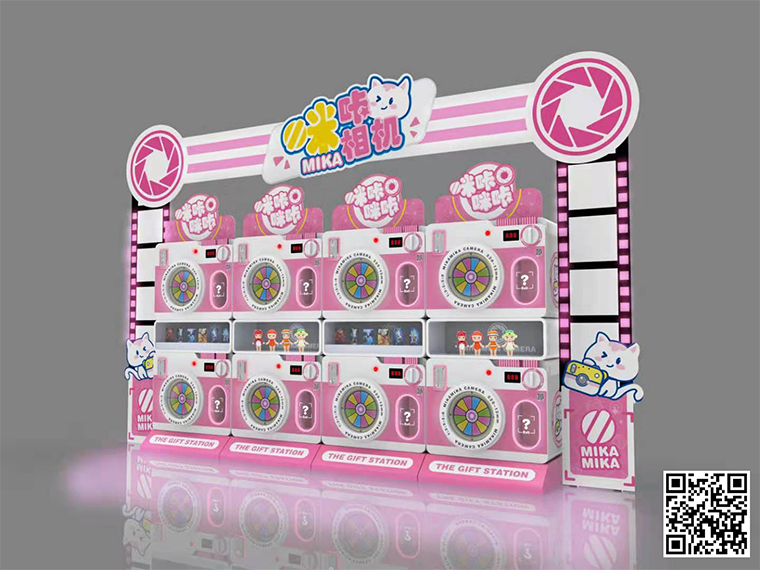 Guangzhou SunZee Intelligent Technology Co., Ltd.
Guangzhou SunZee Intelligent Technology Co., Ltd. is an innovative automation company integrating R&D, production, sales and service. SunZee focuses on new retail industry, intelligent Internet of things application, commercial automation, and industrial automation. With the style of high standards and high requirements, we will provide customers with high-quality products and all-round services. At present, our products mainly include automatic cotton candy vending machine, intelligent Internet of things application, multi axis commercial robot, robot integrated application, visual recognition system and other related products and services, which can provide customers with customized solutions and equipment.
MG320 Automatic Cotton Candy Machine
1. Automatic and unmanned management.
2. Internet of Things background, real-time monitoring.
3. It can update AD remotely.
4. Large advertising integrated touch screen.
5. GPS positioning.
6. Wechat + Alipay + coins.
Dimensions: 1315 * 645 * 2019 mm
Net weight: 270 kg
Voltage: AC220V 50HZ
Flower type: 18 shapes
Taste: Original/Strawberry/Orange/Cantaloupe
Production time: 110~120 seconds
Sugar consumption per serving (approx.) : 40g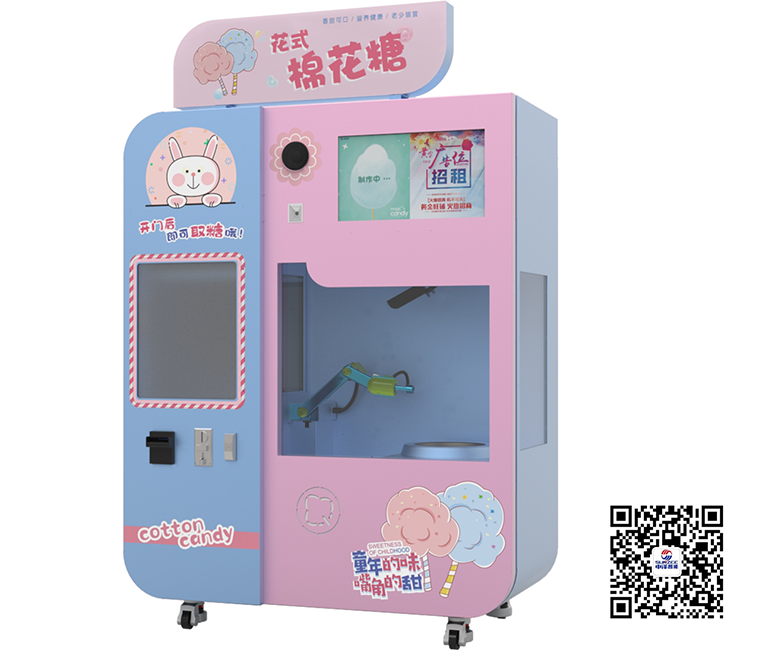 Shanghai MaNiYa Entertainment Consulting management Co., Ltd.
Go Go Bear is a shared children's electric car brand launched by Shanghai MaNiYa Entertainment Consulting management Co., Ltd., dedicated to high-end children's electric car services. To cater to the development of the emerging children's electric car market, to overcome the defects of high price and inconvenient movement of children's electric cars in the past, the business model of scanning the code and renting a car was launched. At present, Go Go Bear covers more than 20 key cities across China and has more than 100 outlets. It is in a rapid expansion stage, which is expected to cover major cities across the country and establish more than 1,000 outlets in 2021. With strong technical support for the Internet of Things, Go Go Bear features its own big data operation analysis platform, cutting-edge core technology and channels, and a professional online promotion and operation team. From brand negotiation, children's electric car positioning to final design, manufacturing, modification, and upgrade, MaNiYa can provide one-stop service.
Go Go Bear cabinet + children's car
Cabinet specification:
Dimensions: 152*88.5*252cm
Weight: 200kg (with cabinet wheels)
Area: 1. 35㎡
Power: 0.25kw (maximum)
Voltage: 220V
Communication method: 4G Internet of Things
Accommodate vehicles: 2
Lighting system: high-brightness LED lights
Usage: WeChat Mini Program/ Alipay
Billing unit price: independent pricing in the background
Disinfection system: medical UV light
Cabinet chip: independent R&D of the 7th generation motherboard, 4G LTE mobile network card, Qualcomm Quectel CPU
Children's car specifications:
Weight: 12.5kg
Age: 2-8 years old
Load: within 40kg
Speed: 2-3km/h
Endurance mileage: 6 hours
Driving mode: autonomous driving, remote control driving
Battery capacity: 17.5Ah lithium battery
Color: all colors
Chip: Power control eControler chip, Identification chip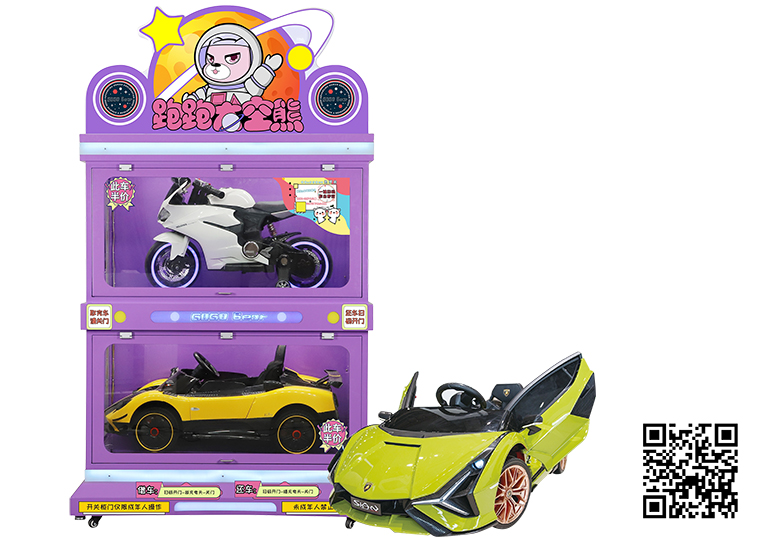 Beijing Adler Technology Development Co., Ltd.
Established in 1993, Beijing Adler was formerly known as Beijing Great Wall Jiye Toys Factory. It is a domestic company engaged in the entire industry chain of parent-child amusement equipment in early years. It has a long history of development and rich experiences in the industry, which integrates design, R&D, production, and sales. It provides a full set of solutions for indoor and outdoor theme park investors, and builds a high-end customized manufacturing brand of comprehensive children's entertainment products at home and abroad. The design, manufacturing and installation of its products are in accordance with the safety standards of amusement equipment. From raw materials to structural design, they have passed strict safety testing, and have been unanimously recognized by major professional organizations and the industry. Adler is also a safety production standardization unit, a member of the China Association of Amusement Parks & Attractions, a member of IAAPA, a member unit of the China Toy & Juvenile Products Association, a member unit of the China Children's Business Working Committee, and a unit of Inflatable safety production standard technical specification.
Adler will adhere to the business philosophy of "Love, Virtue, and Joy" to make unremitting efforts for the development of the parent-child amusement industry, and continue to contribute to bringing quality products and services to investors. It makes its customers more competitive in the market. We look forward to working with people from all walks of life who are interested in the development of parent-child amusement undertakings to develop, make progress, and achieve common prosperity together!
Super Wings themed inflatables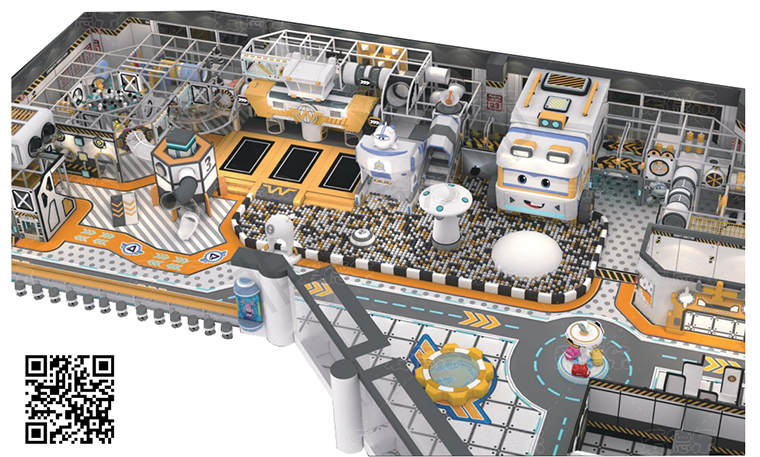 Guangzhou Langpai Electronics Co., Ltd.
Langpai Electronics is a professional manufacturer of domestic parent-child park series products and outdoor plaza amusement facilities. The company has its own manufacturing plants in Panyu and Zhongshan, Guangzhou. It boasts more than 10 years of experience in children's amusement equipment industry, integrating design, R&D, production, processing, and sales. The products involve shopping mall / square electric recreational vehicles, children's bumper cars, drifting karts, square shopping mall small train / Carousel, which sold in many provinces across the China and exported to Southeast Asia and other countries. It boasts a number of patents and a complete quality control system and after-sales service standards. We sincerely look forward to working with you to create brilliant future.
Super Squad - Pikachu (without shed)
Material: Thickened FRP
Dimensions: 180*116*85cm
Weight: 150kg
Maximum load: 200kg
Battery: 12V45AH*4
Motor: 24V350W
Starting method: remote control and swipe card
Life time: 8 hours in total
Charging time: 5-6 hours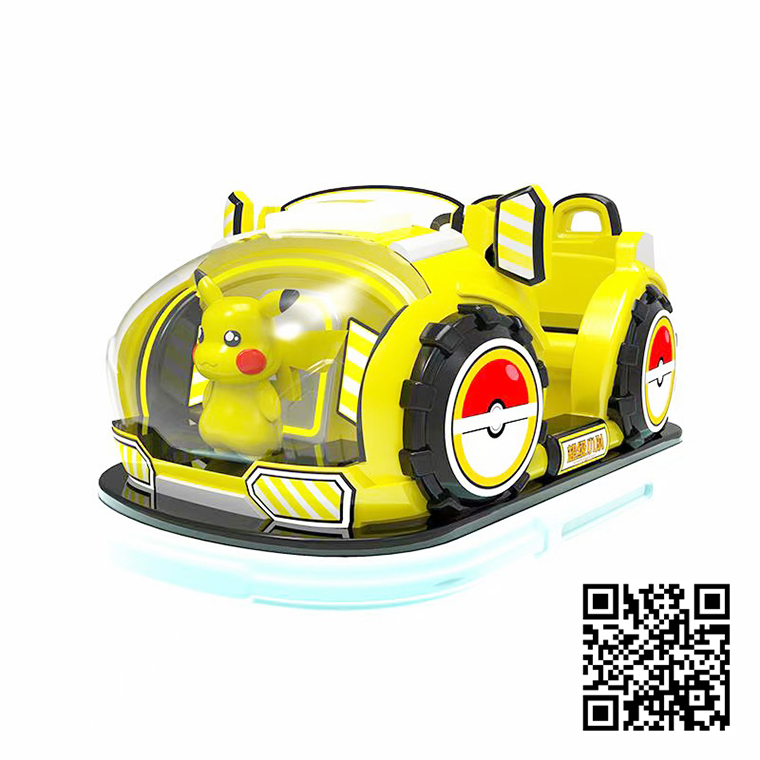 ChuangChengLong (Chuangwei) Toys Co., Ltd.
ChuangChengLong (Chuangwei) is an export-oriented enterprise integrating industry and trade. It is located in Chenghai district of Guangdong's Shantou Special Economic Zone with convenient transportation of sea, land and air. It specializes in international and domestic trade focusing on gifts and toys. It values credibility and promises, and takes "customer first, quality assurance" as its business tenet. Its rich experience and thoughtful professional marketing team quickly provide customers with high-quality and inexpensive gifts, toys or other products in Chenghai and other regions in China. So far, Chuangwei's products are widely sold throughout the country and exported to overseas markets, and are well received and praised by customers. Chuangwei warmly welcomes guests from home and abroad to visit and give instructions, work together to develop, create mutual benefit and a brilliant future!
6 Cute Cow Toy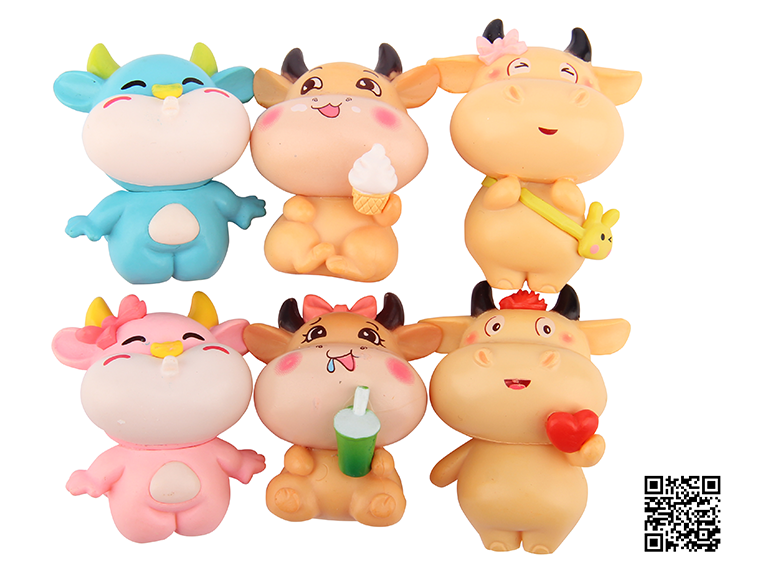 Guangzhou Gym & Fun Technology Co., Ltd.
Huoshi Chuanyu is an enterprise focusing on cross-border integration of entertainment equipment. Its business covers software development, hardware production and other fields. It is a comprehensive technology company integrating R&D, production, sales and service. It has been established 11 years and invested huge sums of money to develop a full range of products such as game treadmills, game exercise bikes, interactive vending machines, and entertainment vending machines. Sports and purchases are more interesting, fully meet the needs of contemporary consumers, and creates far-reaching social benefits and benign economic benefits. Its products are widely sold throughout the country and have been exported to foreign markets for many years, creating a good reputation and popularity, and are widely loved by players and operators.
Super Runner
1. Unique design and simple gameplay.
2. A new entertainment mode of multiplayer battle competitions.
3. It boasts a huge group of players, a number of activities / events, suitable for various activities in arcades.
4. Connect online and offline, with increasingly powerful functions, WeChat background system, and huge fan resources.
5. National networking and interaction.
6. Luxuriously high-definition LCD, exquisite game scenes.
7. Gorgeous lighting and sound system, leading players to go deep into the game scene.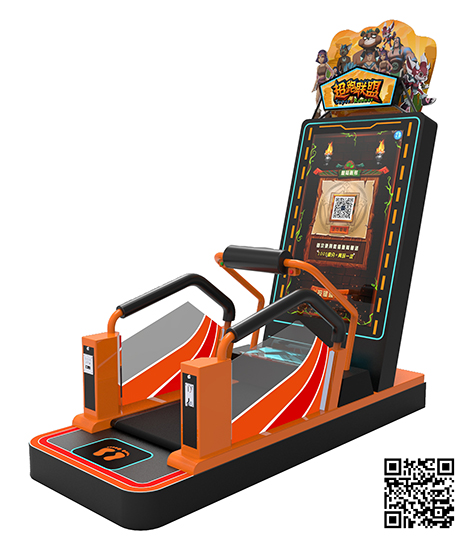 Zigong Ocean Art Co., Ltd.
Founded in 1996, Ocean Art a high-tech enterprise specializing in the R&D, sales and exhibitions such as dinosaur fossil skeleton models, life-sized dinosaurs, sculpture dinosaurs, fiberglass dinosaurs, and dinosaur playground interactive equipment. The exhibits of dinosaurs and simulated animals developed and produced under the guidance of Chinese paleontologist were identified as "excellent scientific research works" by the Chinese Academy of Sciences, and were hailed as the reappearance of the "Jurassic". Spanning 10,000 sq.m, it boasts a professional workforce and advanced production equipment, with an annual production capacity of $3m, of which about 70% are exported. Its products have been favored and praised by customers at home and abroad for their lifelike appearance, textured leather, coordinated movements, scientific combination plot, reasonable price, and good after-sales service.
For more than a decade, Ocean Art has provided a series of dinosaur models for counties and regions, such as United States, Canada, Argentina, Peru, Hungary, Austria, the Netherlands, Australia and Hong Kong, Taiwan, Beijing Nature Museum, Tianjin Nature Museum, Shanghai Nature Museum, Chongqing Nature Museum, Zhejiang Nature Museum and Nature Museum of Chengdu University of Technology, the Coal Museum of China, Inner Mongolia Erenhot Dinosaur Museum, Yifu Museum of China University of Geosciences, Dinosaur Egg Fossil Museum, Chaoyang Bird Fossil Museum, Heyuan Dinosaur Museum, Changzhou Chinese Dinosaur Park, Lufeng World Dinosaur Valley. At the same time, it has designed and arranged exhibits for Chongqing Jurassic Park, Hainan Jurassic Park, Jinjiang New Century Dinosaur Park, Panyu Paleontology Museum, Dongguan Paleontology Museum, and Xixia Dinosaur Egg Museum.
Interaction series
A series of products suitable for amusement parks and shopping malls: dinosaur battery cars, walking dinosaurs, dinosaur rides, and dinosaur suits, to name just some.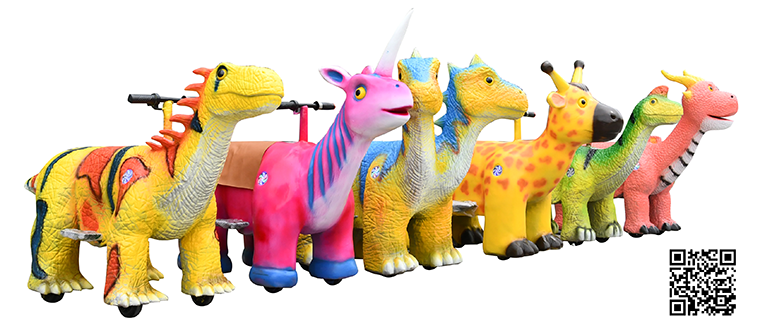 Kameng Deer Puzzle Amusement Co., Ltd.
Kameng Deer creates new indoor amusement parks for children aged 1-12. It is a comprehensive children's entertainment professional brand integrating children's amusement, sports and fitness, fun puzzles, parent-child interaction, theme activities, and toy sales. Its products are aimed at promoting children's intellectual development, aiming at improving children's hands-on coordination, sensory training, and physical fitness, allowing children to get close to nature, perceive the ecological mystery, and feel the miracle of life in a safe environment, while exercising the children's coordination of hands and eyes and hands-on ability. Kameng Deer will keep in mind the service concept of "growth with children" and promote the industry to move towards high quality.
Puzzle dinosaur archaeological table
1. Flexible operation, parent-child interaction, rapidly generate income, edutainment.
2. The corners of the table are designed with a thickened metal iron frame, which is firm.
3. The table is smooth and burr-free, and has a garbage cleaning port, which is convenient and safe.
Dimensions: 240*120*55cm
Materials: solid wood + metal + glass steel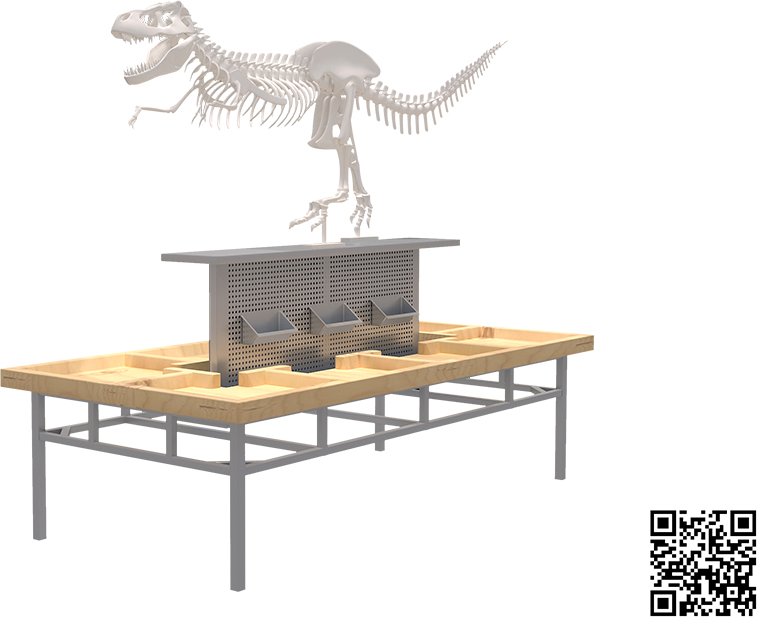 Guangzhou Huarui Amusement Equipment Co., Ltd.
Huarui is an innovative technology development amusement equipment company integrating R&D, production, sales and operation. It is one of the leading manufacturers of domestic children's health and intellectual amusement equipment, and its products are widely sold at home and abroad. Huarui mainly develops and produces remote control model amusement facilities, researches market demand, and combines the actual operation of the venues. It uses professional model technology for remote control (tank) combat vehicles, adopts remote control technology, timing technology, audio technology, and model aircraft brushless motor power technology, infrared induction technology, water bomb technology, new energy battery and other technologies. Combined with various themed scenes, Huarui are perfectly integrated these elements into the amusement project, providing unlimited fun to the players. It aims to popularize, entertain, and market model sports, and help more people with entrepreneurial dreams realize low-cost businesses.
Tank Assault Battalion flagship edition
1. It uses a combination of special high-performance batteries and a full-time four-drive gearbox, with strong power and long-lasting battery life (more than 5 hours).
2. The cabinet and console are made of special military materials, anti-impact, durable, and anti-violence.
3. 360-degree rotation, drifting, the console can be activated and controlled by the remote control, and can also be managed by the card head of the venue management system and the new Internet payment system, which is convenient for investors to place in multiple venues;
4. The console comes with a cumulative statistics function, and the management and revenue data are clear at a glance.
Dimensions: 4.6m*7.1m
Number of seats: 8 luxurious seats
Direction console: 8
Number of tanks: 8
Power: 300W
Number of batteries: 16
Battery charger: 1 set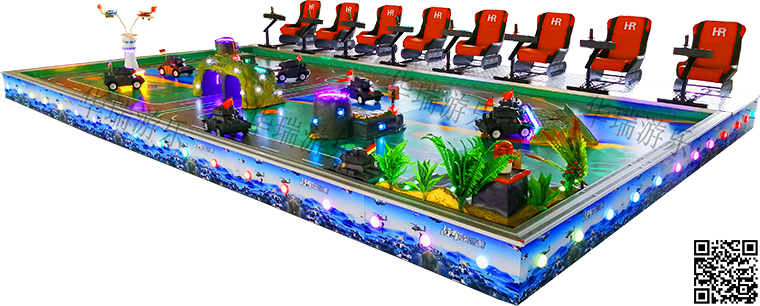 Guangzhou Red Boutique Toys Co., Ltd.
Founded in 2016, Guangzhou Red Boutique Toys Co., Ltd. is a comprehensive toy and gift company integrating R&D, design, production, and marketing services. The company always pays attention to the latest developments in the industry, and continuously launches products that meet the needs of the market. In the process of product design, it continuously integrates new popular elements, keeps up with the trend of the times, and introduces a number of popular online celebrity product series in the market. It has cooperated with a number of well-known domestic park chains. Its products are widely sold throughout the country and exported to foreign markets, which are deeply loved and favored by customers. We will always adhere to the business philosophy of "customer first, forge ahead" and the principle of "quality first" to create more fashionable and trendy products.
JK Lamb
The fabric is soft, and the appearance is cute. The clothes can be put on and taken off freely.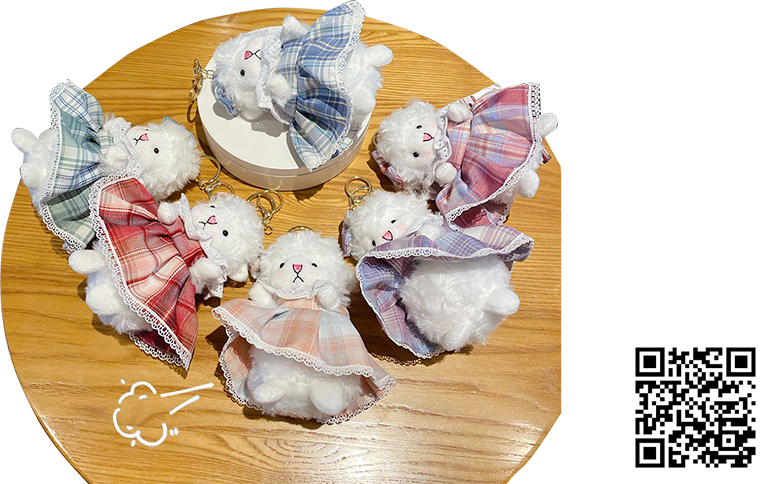 Guangzhou Boyun Animation Amusement Equipment Co., Ltd.
Boyun Animation is a comprehensive well-known brand enterprise specializing in the R&D, production, sales and service of game systems, products and solutions. It boasts professional R&D technology, excellent production, sales and management teams, and can always grasp the market trend and demand. It has successfully launched a series of products favored by customers and players, which are widely sold nationwide and exported to overseas markets and are used in major amusement parks and large shopping malls at home and abroad. It has established a good reputation in the industry with high-quality products, affordable prices, a win-win cooperation model, meticulous and thoughtful service, and innovative design.
Boxing King
1. It is a cool boxing machine; the digital display board and the pointer display area are all made of highly transparent and high-hardness blister.
2. High-density and high-quality sponges are used around the cabinet, equipped with special gloves for boxing matches to protect the safety of players.
3. There are three rounds in a game, if the total score of three punches exceeds the set point, the player can win prizes such as tickets.

Guangzhou XingManLe Amusement Equipment Co., Ltd.
Founded in 2015, XingManLe is headquartered in Panyu District, Guangzhou City, Guangdong Province, one of the bases of China's game amusement industry. Since its establishment, it has always been adhering to the entrepreneurial philosophy of "sincerity, sincerity, and sincerity", and based on the principle of honesty, all kinds of people of insight inside and outside the Guangzhou Jiaotong Industry. Through the joint efforts of Xingmanle people, Xingmanle has now developed into an animation enterprise and game console manufacturer integrating R&D, production, sales and after-sales service of amusement equipment and animation game products. After years of hard work, Xingmanle has accumulated rich experience in venue operation and management. With its accurate positioning of the animation amusement city and timely grasp of market demand, it has formed a set of equipment configuration and marketing promotion. Operation management training is equal to an integrated one-stop professional operation system.
Sailing Monopoly
1. A pinball redemption machine for leisure and puzzle.
2. Available for 2 players.
3. Especially suitable for interaction or competition games among couples, parents and children, and friends.
4. The machine's comprehensive ticketing rate is automatically adjusted according to the revenue situation, without manual adjustment.
Dimensions: 1130*1460*2500mm
Power: 300W/220V
Suitable venue: Children's theme park, adult comprehensive venues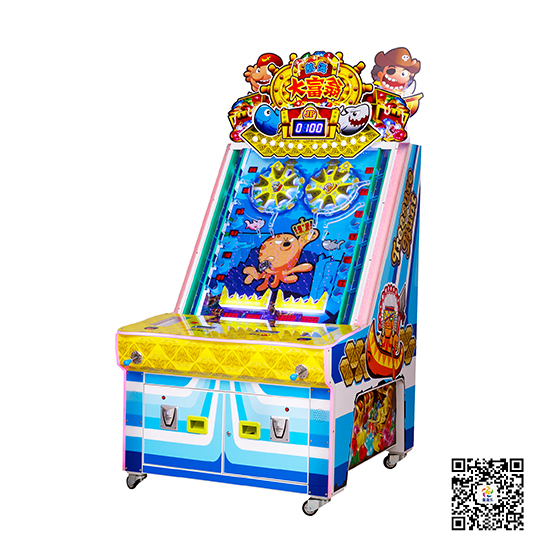 Qingdao Red Tail Fox Club Co., Ltd.
Red Tail Fox is committed to the dissemination of kart culture and the promotion of kart sports. It is a kart racing industry platform that integrates the development and manufacturing of sports karts, interest training, driving skills teaching, competitions, and adventure education. Based on this platform, Red Tail Fox integrates resources and builds a health kart industry ecosystem. It is committed to making children more focused, cheerful, and confident, and fulfilling their dreams of being racers. The Red Tail Fox Kart Club has a professional independent R&D team, and cooperates with many universities and scientific research institutions. Currently, it has acquired 2 invention patents, 1 utility model patent and 1 appearance patent.
HVFOX Kart
1. One-piece steel frame, ultra-low chassis, streamlined design, racing style.
2. Imported environmentally friendly raw materials, European standard E0 grade.
3. Twin-engine drive, strong power, special wide tires, provide racing experience.
4. Double safety guarantee, electronic brake + APP network control.
5. F1 steering design, sensitive control, long battery life + fast battery changing.
6. Removable pedal design, easy to adjust the distance.
7. Fashionable appearance and full of sense of design.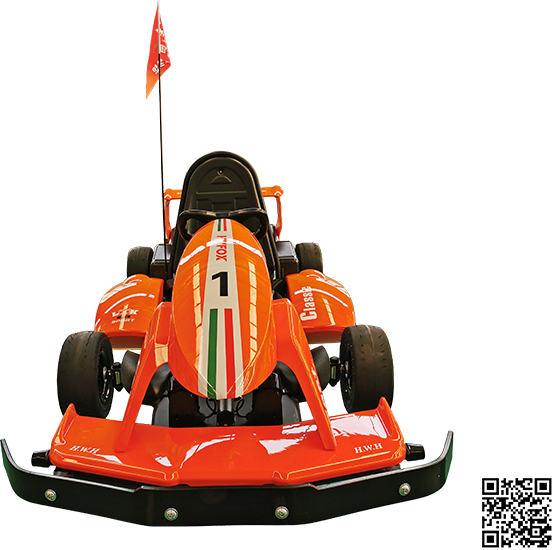 Guangzhou WangErBao Software Development Co., Ltd.
WangErBao is a company focusing on the R&D of mobile Internet entertainment equipment, mainly engaged in the development and production of games, gift machines and entertainment machines. Since its establishment, it has been adhering to the enterprise spirit of "being a leader in the market". In the traditional gift machine development process, big data analysis is used to accurately grasp the preferences of users, and AI algorithms are innovatively added to make the entertainment machine more humanize. Wangerbao has been committed to developing profitable amusement equipment with first-class fun experience. It uses Internet technology to make operator management more convenient and after-sales service more secure. All of its employees have good qualifications. Among them, R&D team members have more than 8 years of R&D experience in related industries, and more than 30% of them have master's degree or above.
DanKeWo Gashapon Machine Hardware Model 100
1. Applicable to indoor children's playgrounds, large shopping mall center corridor, elevator corridor areas, cinemas/recreation and entertainment venues.
2. Scan the code or insert tokens, turn the knob to take out the gashapon from the outlet.
Dimensions: 385*520*685mm
Power: 13W
Weight: 20kg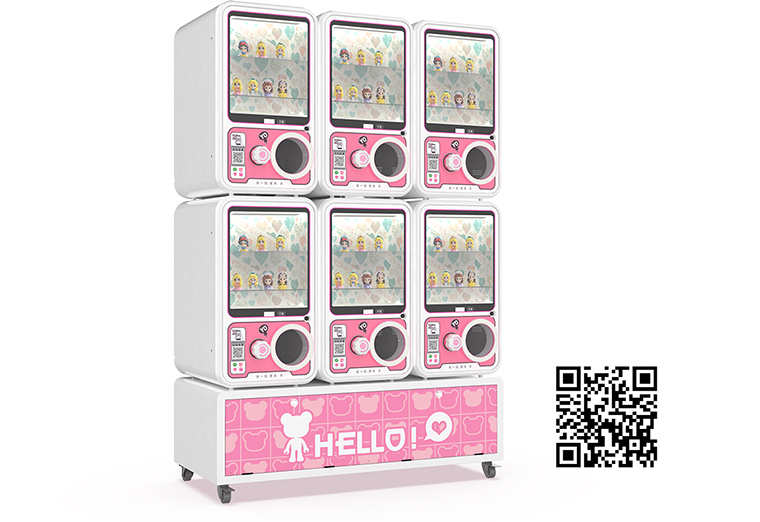 Guangzhou DanDanTang Animation Technology Co., Ltd.
DanDanTang is a comprehensive enterprise engaged in the R&D, production, sales, and venue operation services of children's educational amusement equipment. Since its establishment, it has always adhered to the professional development route of high-quality, star-rated services with the spirit of "to be the first", the "stable and practical" business style, and the "integrity and win-win situation". Dandantang insists on focusing on the development of children as its core research and development, and has launched a series of products that include playing and learning, entertaining, and healthy intelligent products, serving a wide range of markets such as children's playgrounds, toys, and preschool education. Some products has entered Beluga World, Wanda Kids, Molly Fantasy, Baby Fairlyland, Tom's world, YuYuTo, LOVEYOYO, Pirate Legends, Frog Leon, Happy Castle, Danny Bear and other brand chain stores.
Maker series toy table
1. With FRP material, the appearance is cute.
2. Bright themes, a variety of styles, and more choices.
3. With different puzzle games, cultivate children's ability to use their hands and brains, and enhance the interaction between parents and children.
4. One of the standard machines at numerous venues.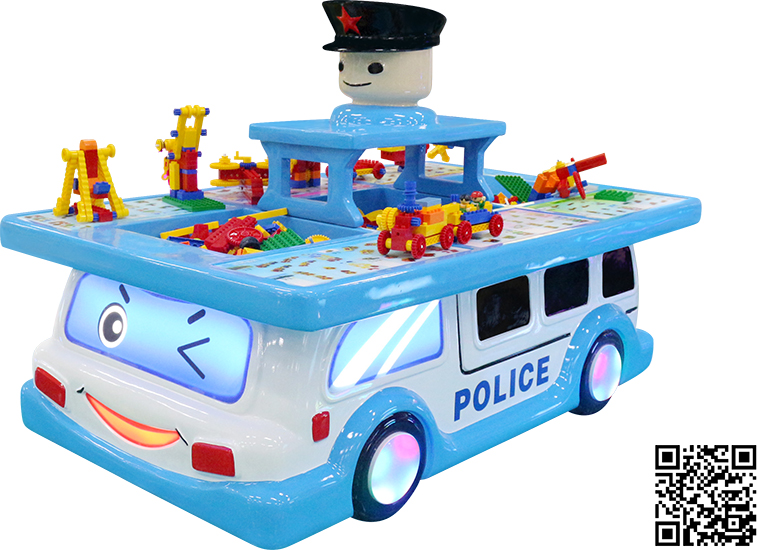 Rlik Angle Technology Development Co., Ltd.
Founded in 2010, Rlik is a professional service provider of integrated overall solutions, focusing on creative planning, custom design, technology R&D, production and installation of high-tech theme amusement projects. It is committed to the combination of cultural creativity and technology innovation. Its business includes: indoor smart sports, special theaters, themed dark rides, AR, VR interaction, electronic sand table, holographic stereo imaging, interactive projection, virtual imaging, dynamic special effects digital cinema, somatosensory interaction, suspension matrix, laser interaction, radar touch, 3D animation production, virtual digital roaming, APP interactive software development, multimedia intelligent central control and other multimedia exhibition display technologies. The company aims to ensure the quality of each project under the premise of maximum reduction of operating costs, reduce risks for customers, and to improve profits and efficiency.
Baseball simulator
1. The transition from outdoor baseball to indoor baseball is not subject to environmental factors.
2. Provide different baseball field models with different levels.
3. Suitable for players of different ages.
Floor area: 10m*4m*3m
Number of people: 1-4
Participation time: 15min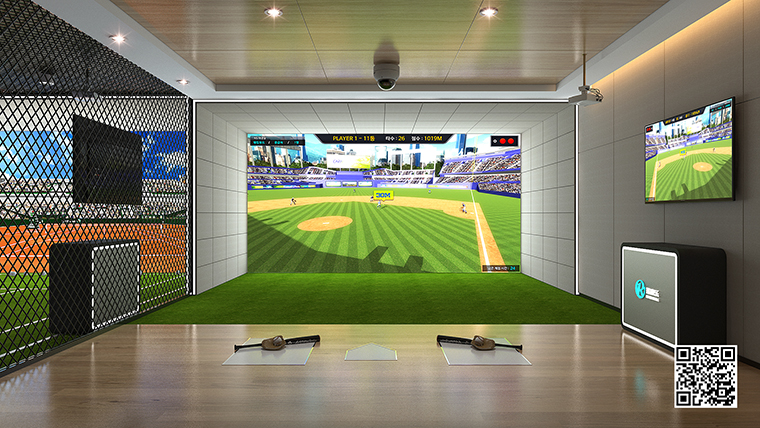 Booth No.: 5T07B Guangzhou Zhike Network Co., Ltd.
Zhike is a professional amusement park informatization solution provider and developer. Since its establishment in 2005, it has always focused on the field of playground information management, independent research and development, sales of software and intelligent hardware terminals. At present, more than 6,000 amusement venues in 30 countries are applying Zhike's mature management solutions and equipment, with more than 300,000 smart terminals have been installed. Its products have been widely used in the amusement filed and continuously research and upgrade in the quality and user experience to help the amusement operators to solve the management and marketing promotion difficulties and problems by the advanced production idea and professional service standard.
ZhiFuYou K3
Features:
1. 6" large screen; can compatible with various game machines.
2. Payments: Bank card + Wechat + Alipay
3. Available for virtual currency, tickets, and pre-deposit.
4. Time period discounts, intelligently distinguish membership status.
5. Real-time collection of revenue, sales, and customer profile.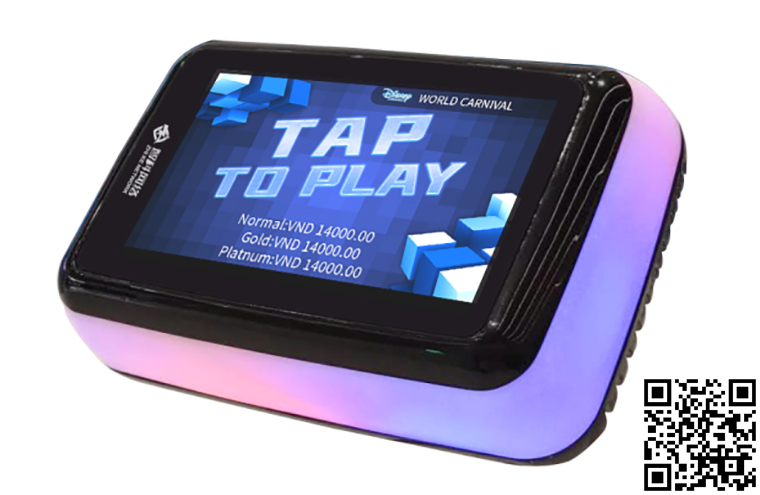 ※The article is published in the GTI Magazine Issue No. 202 in November 2021