Booth No.: 2T12A Guangzhou Design Decoration Engineering Co., Ltd.
Design is a professional organization that focuses on the planning, design, and construction of large theme parks, children's theme parks, theme shopping malls, theme hotels, theme restaurants, and animation cities at home and abroad. The company boasts a top domestic design and construction team. You can find more than 2,000 successful cases both at home and abroad in various industries. While conceiving, planning, and constructing projects, Design pays more attention to pre-research, field visits, and environment research. It provides accurate investment income analysis according to the project and customer needs, and provides customers with professional solutions and suggestions. The company adheres to "Infinite Creativity and Adherence to Contracts" and the purpose of "Creating the Greatest Benefit for Customers" to reflect the company's achievements and value.
Park Planning and Design

Booth No.: 2T19A Guangzhou U-Enjoy Animation Equipment Co., Ltd.
Founded in 2016, the showroom of U-Enjoy is located in Startoon City, Panyu District, Guangzhou, and its factory is located at Nancun Town, Panyu, Guangzhou. U-Enjoy is a game & amusement enterprise integrating R&D, production and sales. Its main products are: simulators, carnival redemption machines, children's amusement machines, just to name a few. U-Enjoy insists on being market-oriented, unswervingly taking the road of scientific innovation and self-help R&D, and continuously launching excellent products.
Dream Castle (Enhanced Version)
Features:
1. When the game starts, the token falls from the middle of the bell, and the Ferris wheel chasing light starts to rotate rapidly. When the light stops at 3/5/8, the corresponding token will fall on the pushboard, and the player wins the corresponding tickets.
2. When the chasing light of the Ferris wheel stops at 10, you will get 10 tokens, and a light will be lit at the start point and the end point, and the player will win the corresponding tickets.
3. When the Ferris wheel running light stops at 10 again, you will get 10 tokens again as well, and two lights from the start point and the end point will be lit forward, and the player will win the corresponding tickets.
4. When the start and end lights are all on, the player wins the small train prize. The small train drives to the current position and pours all the tokens in the carriage onto the coin pushing board, and the player wins the corresponding tickets.
5. When the running light of the Ferris wheel stops at "Yi Bu Deng Tian", players keep inserting coins within a specified period of time, and make the tokens pass through the small train pattern and bell, then you can directly win the small train prize.
Dimension: W1730 x D1730 x H2200mm
Weight: 1000kg
Power: 600W
Voltage: 220V/110V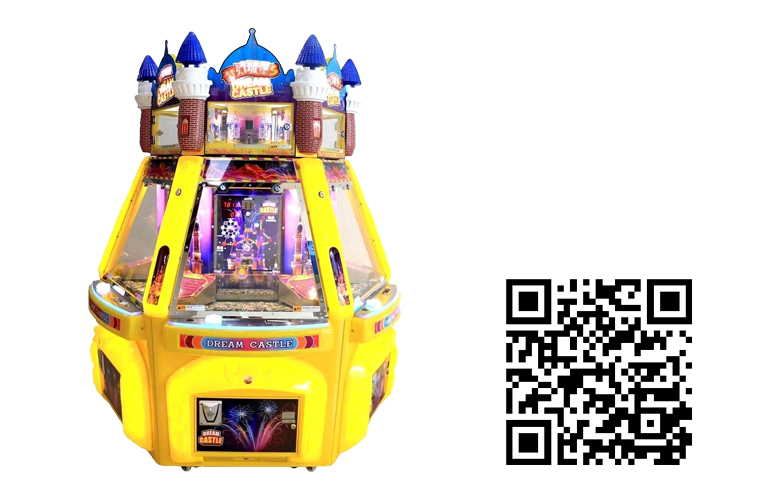 Booth No.:1T05B Guangzhou XiongZhiYe Animation Technology Co., Ltd.
Founded in 2009, XiongZhiYe is a professional manufacturer specializing in all kinds of amusement machine, game machines, and video games integrating R&D, manufacturing, and sales. Over the years, it has been catering to the market trend and constantly launching new products, such as redemption machines, gashapon machines, gift machines, and parent-child amusement machines, just to name a few. Its products are sold all over China and exported to more than 20 countries and regions including Singapore, Turkey, and Russia. XiongZhiYe has won extensive support and trust from customers by its rich experience in developing superior products with moderate price, perfect sales network, and worry-free after-sales guarantee.
Cycling Speed
Features:
1. A new, thrilling and entertaining single-player cycle simulator.
2. Multiple tracks can be chosen, including water and land tracks.
Various speeding props in the game adding more fun to the competition.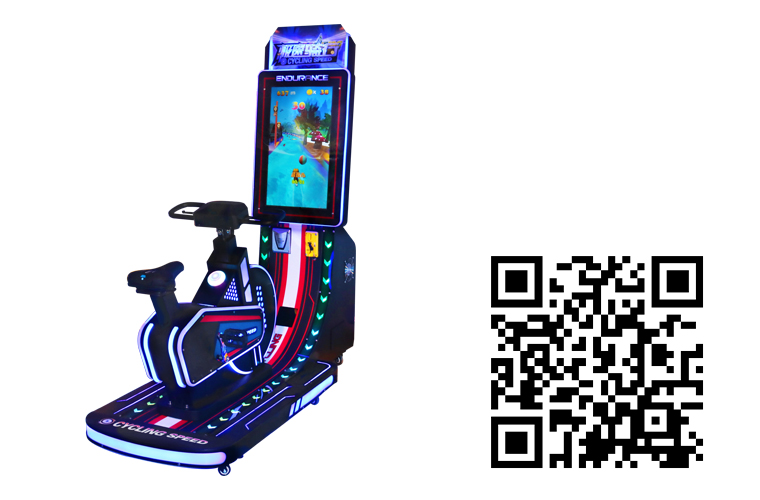 Booth No.2T24B: Guangzhou AMA Amusement Equipment Co., Ltd.
Founded in 2009, Guangzhou AMA Amusement Equipment Co., Ltd. is an emerging technology enterprise specializing in R&D and production of video games, indoor amusement equipment and outdoor battery poweredamusement equipment. Its main products include square cars, carousels, adult video games, and children's video games, such as racing cars, shooting machines, redemption machines, basketball machines, hockey, gift machines, fighting machines, music machines and other products. AMA wins customers with their unique, quality products and thoughtful service. It is the evergreen tree in the industry and its products are widely sold throughout the country and all over the world.
Police Car
1. A two-player deluxe police car for children to enjoy driving; the car features coin/card payment systems and remote control function; the anti-collision strip ensures the signal of infrared induction.
2. The background operation is simple and provides inquiry function of account management.
3. Powerful battery life: the car can run 7 hours for a single charge.
4. The LED lights and immersive music effects make the game more attractive.
5. Powerful driving experience; Steering wheel + pedals dual control; 360 degrees rotation; forward, backward, left and right free driving.
Dimensions: W1750*D1100*H1780mm
Speed: 3-20km
Weight: 150KG
Loading weight: 200KG
Battery: 45AH*2
Voltage: 24V
Booth No.: 4T08B Zhejiang Taizhou Huangyan Yushi Amusement Co., Ltd.
Yushi Amusement is mainly engaged in the development and production of children's amusement equipment, specializing in space chairs, small rail trains, large square rail trains, rotating lifting aircraft, electric kiddie rides, basketball machines, carousel, screens on kiddie rides, and other products. At the same time, we can design special functions for customers according to their requirements.
The company boasts a large CNC engraving and milling center, 10,000g of Plastic Vacuum Forming Machinery, super large plastic machine and other processing and production equipment. Yushi Amusement provide one-stop services from R&D, demonstration, 3D modeling, mold making, injection molding, paint baking, and installation. The assembly line process undergoes strict quality control.
Yushi Amusement will adhere to "Survived by Quality, innovation and development, honesty and trustworthiness". Thanks to the support of all sectors of society, Yushi Amusement will continue to work hard to provide customers with more ideal products and services with more enthusiasm.
4P Rotating Plane



Booth No.: 3B15/3B16 Zhongshan Desen Paper Co., Ltd.
Desen Paper, specializes in printing tickets of amusement machine, which can provide customers with tickets of various materials and thicknesses. We have a professional team in the design and production of tickets, a number of high-speed rotary printing presses, and advanced post-processing equipment.
Desen Paper boasts an efficient management system from receiving orders to shipments, and has its own import and export rights. Our mission is to look to the world, open up the future, make a healthy, environmentally friendly, high-quality and low-price ticket, and satisfy our customers with fast response and high-quality service. We continue to develop and innovate independently. Desen Paper will adhere to the principles of equality, mutual benefit and friendly cooperation, and wholeheartedly establish and develop trade relations with friends from all walks of life at home and abroad, and carry out more extensive business cooperation.
Amusement equipment tickets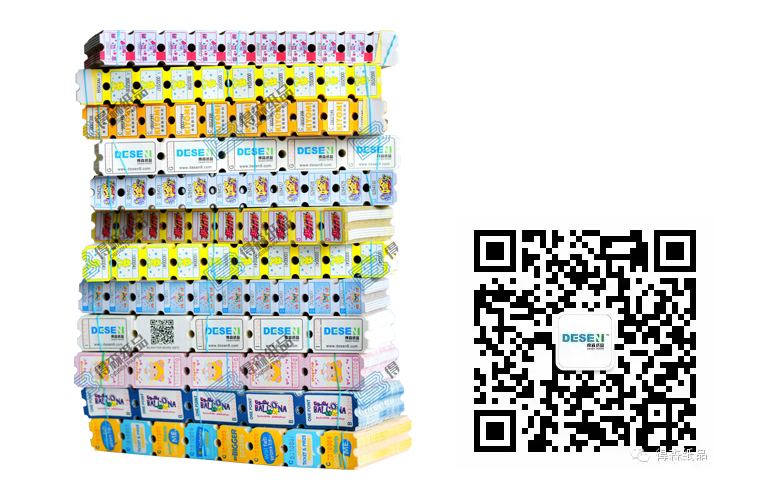 Booth No.: 1T05A Guangzhou Manyuan Animation Technology Co., Ltd.
Founded in 2012, Manyuan specializes in R&D, production, sales and operation of game machines, located in Huachuang Animation Industrial Park, Panyu district, Guangzhou. Through breakthroughs in high quality products, and the advanced R & D and the design team's precise grasp of the game trend, it has established good cooperative relations with many internationally renowned entertainment companies. Manyuan insists on product innovation and launching quality games as its own responsibility, and adheres to the customer-oriented business. Bringing forth the new through the old and learning from others, we are always committed to interpreting the latest dynamic game concepts in the amusement world. Up to now, it has been recognized by customers at home and abroad, and its products sell well in domestic and foreign markets.
Grind It Rich
Dimensions: W1660 x D1660 x H2300mm
Power: 675W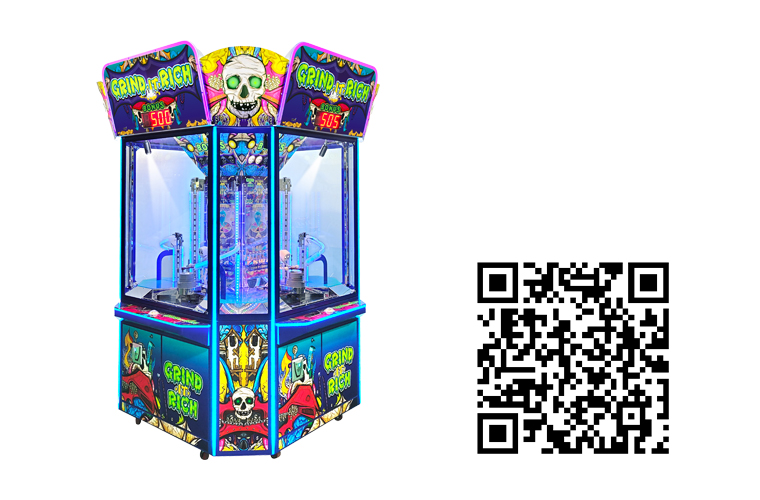 Booth No.: 4T09A Taizhou Linchang Intelligent Technology Co., Ltd.
Linchang is a comprehensive enterprise integrating independent R&D, design, production and sales. At present, it mainly produces children's coin-operated kiddie rides, coin-operated amusement machines, and large amusement equipment. The company boasts an experienced and professional team engaged in the design, production and service of amusement machines. It continuously accumulates the production experience of excellent amusement machines at home and abroad, and develops amusement machines that "lead science and technology, edutainment". The products are equipped with high-end, magnificent appearance and brilliant lighting, which have won the love and praise of many customers at home and abroad.
Amphibious assault ship coin-operated kiddie rides
Features:
1. Equipped with children's dynamic and popular music, colorful lights and a technological steering wheel.
2. Two kinds of buttons, one for the sound of gunfire and the other for the sound of an airplane taking off.
3. Fully enclosed safety seat with transparent carbon cover.
4. Applicable places: parks, shops, supermarkets, hypermarkets, children's clothing stores, pedestrian streets, canteens, communities, kindergartens and other places with high traffic of children;
5. Insert a coin and turn on the power, it starts to swing back and forth, and plays different nursery rhymes and cartoon music at the same time. It will not stop automatically until the a specific time.
Dimensions: 1120 x 780 x 720mm
Material: hardware +ABS+PP
Rated voltage: 220V
Rated power: 60W
Booth No.: 4T08A Guangzhou Yingpin Animation Technology Co., Ltd.
Yingpin is a high-end gift machine and gift solution provider integrating R&D, design, production, sales, and operation services. Relying on science and technology for development, and constantly providing users with novel products, Yingpin believes that contemporary products equal to high-quality & low-price + private customization + operation supervision + lifetime service, which is also the goal that Yingpin has been pursuing. Therefore, Yingpin continues to develop and innovate, with technology as the core, and always strives to stand at the forefront of the market, to explore and develop more innovative and interesting products for players. Yingpin regards quality as life and customer as God, and wholeheartedly provides customers with the most cost-effective automatic control products, and thoughtful after-sales service.
Otaku Diary
Features:
1. All-metallic cabinet; the top of the machine can be customized.
2. Independently developed mainboard and cranes; simple background setting; lifelike and vivid game content; high grabbing probability.
3. The height of gift baffle can be adjusted, which increases the gripping probability and the richness of the gameplay.
Dimensions: W1300 x 800 x 2240 mm (with roof)
Power: 700W
Voltage: 220V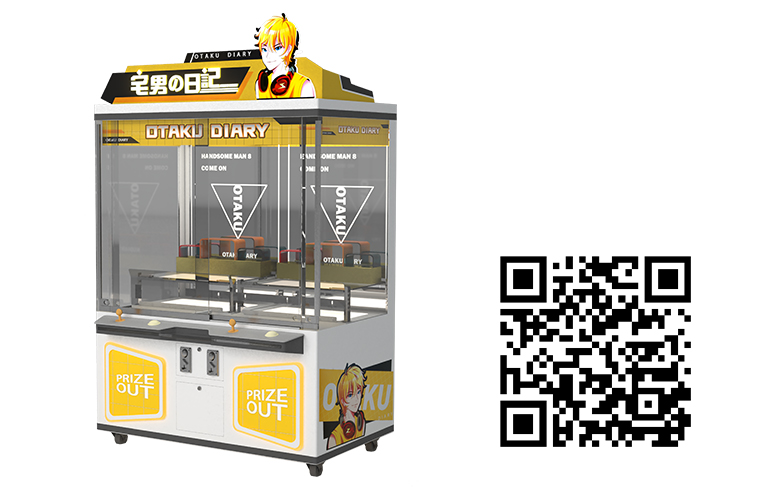 Booth No.: 5T02A Guangzhou Dingyi Environment Art Engineering Co., Ltd.
Founded in 2009, Dingyi is specialized in the comprehensive planning, design and construction of environmental art such as children's theme parks, parent-child restaurants, water parks, theme parks, research bases, museums, animation amusement, cultural tourism projects, and theme landscapes. Since its establishment, the company has undertaken a large number of theme projects at home and abroad and won the unanimous praise of new and old customers at home and abroad by the joint efforts of the high-quality team and the spirit of pioneering and enterprising, innovation and perfection.
Park Planning and Design

Booth No.: 2T15B Guangzhou Kids Joy Animation Entertainment Co. Ltd.
Kids Joy is a children's service provider with the concept of edutainment, and its business focuses on children's vocational experience, manual puzzles and other fields. To build an open and cooperative ecology and provide one-stop services such as design, planning and product customization for playgrounds, kindergartens and other places. Kids Joy is committed to providing children with a better and happy growth environment. Kids Joy's sales network covers various cities in China, and its products and services are also exported to the United States, Europe, Japan, Southeast Asia and other countries and regions, which are deeply trusted and unanimously praised by customers at home and abroad. Kids Joy adheres to the business philosophy of "Profession, Reliability, and Integrity", and practices according to the core values of "helping customers with their businesses, value orientation, honesty and pragmatism, and pursuit of excellence". We continue to innovate and develop more educational products to the healthy and happy growth of children.
Park Planning and Design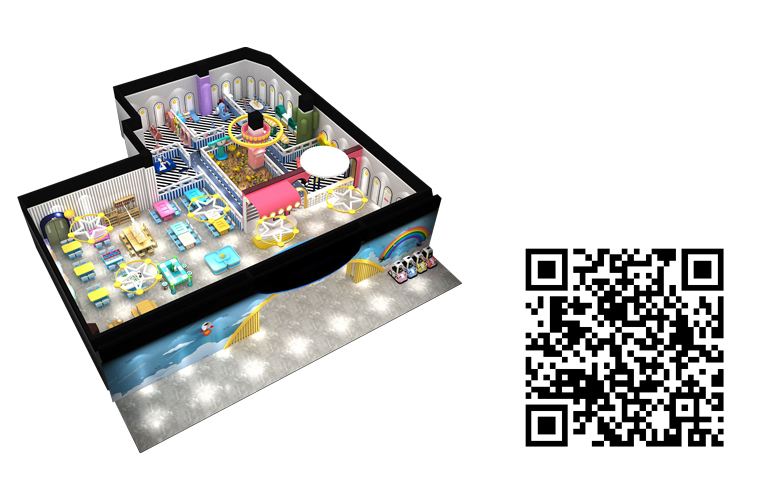 Booth No.: 5T04B Taizhou Huangyan Yuanhang Toy Factory
Yuanhang Toys is a manufacturer that produces and sells kiddie rides' cabinets, kiddie rides, and game machines. Its products have won the favor of customers for its richness, novel appearance, reliability, moderate price, nice-looking and utilitarian, ultraviolet-proof/freeze-proof, and high-quality after-sales. Its products are especially suitable for places with high traffic such as supermarkets, children's goods stores, kindergartens, parks, amusement parks, shopping malls, and hypermarkets. Its business philosophy is "Quality First, Customer First" and "Integrity and Honesty, High Quality and Low Price with Dedicated Service".
Chariot
Features:
1. Bright colors, gorgeous and eye-catching.
2. A variety of styles, more options.
3. Family series products, fun to play.
4. Selected materials, safe and durable.
Product size: W1330*D620*H840mm
Package size: W1155*D640*H860mm
Power: 60W
Rated Voltage: 220V 110V
Weight: 28kg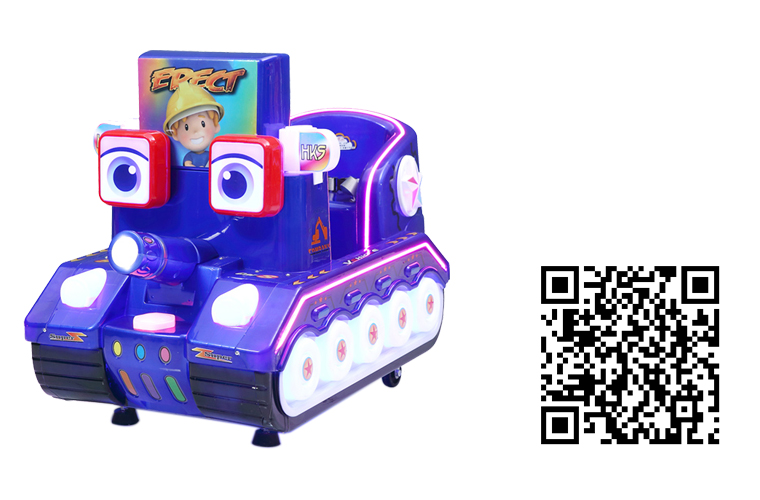 Booth No.: 2T17B Guangzhou Fubei Animation Technology Co., Ltd.
Fubei is a comprehensive manufacturer specializing in R&D, design, production and sales of amusement equipment. Located in Panyu district, Guangzhou, Fubei specializes in providing one-stop procurement and after-sales service for customers across the country. Based on honesty, Fubei has always pursued professional development, upholding the concept of quality first, customer first, and being honest in business, seeking truth from facts and adhering to principles. At present, Fubei's products have successfully created tens of millions of wealth for a good many customers at home and abroad, and have won unanimous praise from customers. It is also developing in its scale and productization with a solid and steady pace.
Fubei Warriors
Features:
1. It's a water-shooting game machine suitable for all ages, based on the theme of shooting monsters, allowing players to experience the fun of water-shooting battles.
2. Featuring vertical design, two players can experience the game at the same time; Players will get points after knocking down the target, and they will get tickets when accumulating to a certain point.
3. Game levels include: Flame Valley, Twilight Playground, Halloween Manor, Hidden Swamp, Undersea Fortress, Rainbow Forest, Frozen Castle, Fisherman's Wharf, and Monster Islands.
Dimensions: L2700 x W1200 x H1860mm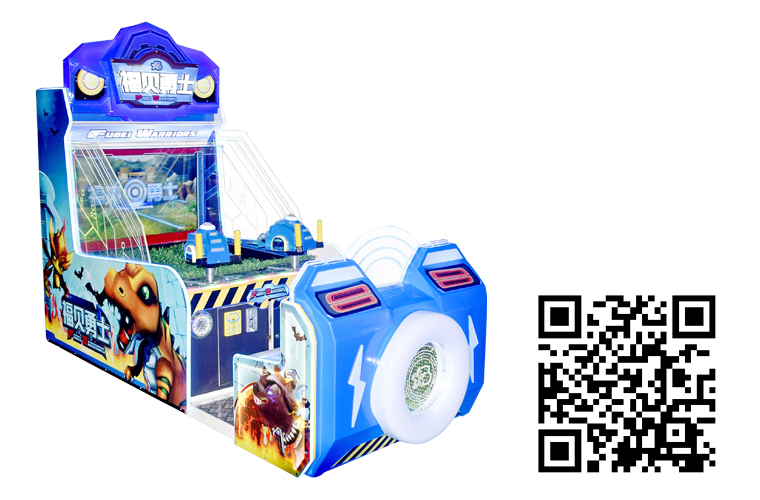 Booth No.: 4T17B Guangdong Changxin Industrial Investment Co., Ltd.
Located in Guangzhou, Changxin is a comprehensive investment company that has established an elite team with a high level of professionalism and rich experience. Based on market, it focuses on asset investment to maximize the integration of various resources, gives full play to its own advantages, and strives to build a new operating platform. Its business projects include investment management, project investment, technology promotion, and amusement project operation and management consulting. At present, it owns two major brand projects - Lododo and Zhidawu. In the future, under its investment philosophy - "Small and medium-sized enterprise growth and entrepreneurial strategic investment", Changxin will mainly focus on investment in cultural tourism, indoor and outdoor amusement, education and high-tech industries. Being an excellent listed company is the great vision of Changxin.
Dollhouse
1. The dollhouse features include a shopping mall, oven, washing machine, refrigerator, kitchen, and so on.
2. Doll Playing House is a role-play game that children play different roles of family members to represent the family daily life and communication, learning how to get along with others.
3. The game can improve the development of children's social ability, language and recognition.
The game has been recognized by many parents who believed the game can help more to promote the development of children compared with other games.

Booth No. 3T23A: Guangzhou KaiShuoBang Animation Technology Co., Ltd.
Jiangxi Nanchang New Oriental Animation Technology Co., Ltd. was founded in the early 1990s, and later settled in Startoon City, Panyu district, Guangzhou in 2006 due to business expansion, and renamed "Jiangxin Animation Technology Co., Ltd." The original Kaishuobang (referred to as Kaibang) Animation Technology Co., Ltd. was established in 2004. In order to focus more on serving the society and customers, the three companies are now merged into one, still using the name Guangzhou KaiShuoBang Animation Technology Co., Ltd. Kaishuobang Animation brings together the backbones of the three companies, integrating R&D, production, and sales. At present, it mainly focuses on developing high-revenue products favored by gift machines and lottery machines.
Dream Bridge
Features:
1. Simple gameplay: inserting the tokens and the screen will show the remaining game times; if not, press the return key to get the tokens back.
2. Aim at the chips on the wheel, and press the start button to start the game.
3. The tokens rotate on the wheel, and then fall into the prize area.
4. Different prize area rewards different tickets; the tokens fall into the same color area will be awarded double; and fall into the four special areas will get extra rewards.
5. If the number of game times on the screen is zero, it means the game is terminated.
Dimensions: W1340 x D1340 x H1780 mm
Sites: Children's theme parks, Adult's amusement places