Booth No.: 2T02A Zhongshan Luck & Jinying Amusement Machine Co., Ltd.
Founded in 1995, Luck & Jinying is an enterprise specializing in R&D, manufacturing, sales and service of game and amusement equipment. It is one of the main suppliers of playground equipment. Its products cover large outdoor amusement facilities, indoor animation and video amusement machines, and carnival machines. The company has obtained the "Special Equipment Manufacturing License" for large-scale amusement facilities in China. It boasts more than 50 patents for product appearance, utility model and invention. It was recognized as a "high-tech enterprise" by the state in 2019. Luck & Jinying is also a member of IAAPA and a standing director unit of CAAPA.
Baseball Jump
Features:
1. Insert the coin, enter the game.
2. Press the button, bounce the ball.
3. When the baseball drops to different holes, the player can get the tickets according to their score.
Dimensions: W1070 x D1040 x H2600mm
Voltage: AC 110V/220V
Power: 350 W
Weight: 250 kg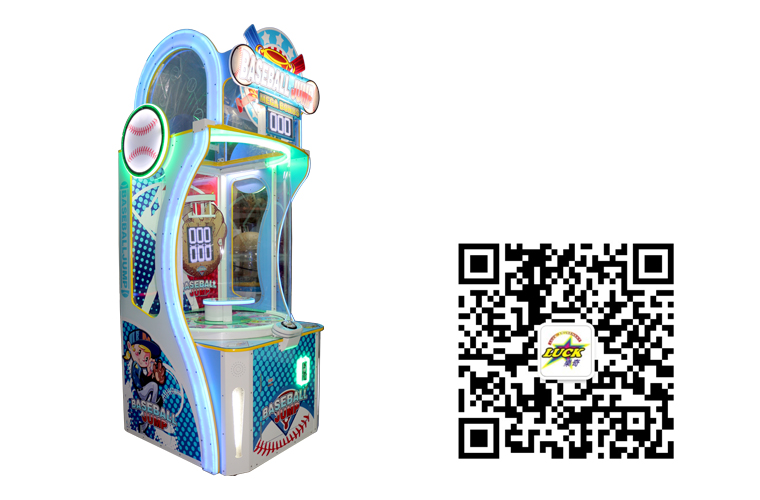 Booth No.: 3T04 Nitto Fun Technology Co., Ltd.
Nitto is a professional game & amusement manufacturer integrating R&D, production and sales. Its main products include carnival redemption machines, simulators, and children's amusement machines. Since its establishment, Nitto has grown rapidly and has now developed into a well-known game & amusement company at home and abroad through the joint efforts of its team. Its products are widely sold at home and abroad and are trusted and loved by customers and players all over the world. It is one of the main suppliers of many well-known chain venues. Nitto will unswervingly follow the path of "innovation", always uphold "Quality First, Service First", and continuously launch excellent original works.
Brave Fire Fighter (4P)
Features:
1. Brand new fire fighting theme water shooting game.
2. 75-inch HD large screen displays the 3D fire scene with a rich experience.
3. It can publicize fire protection knowledge and boasts educational significance.
4. Insert the coins, select the game level, press the button on the water gun to extinguish the fire, and control the black gun to swing left and right to select different props to extinguish the fire. When the game is over, the more points you get, the more tickets you will receive.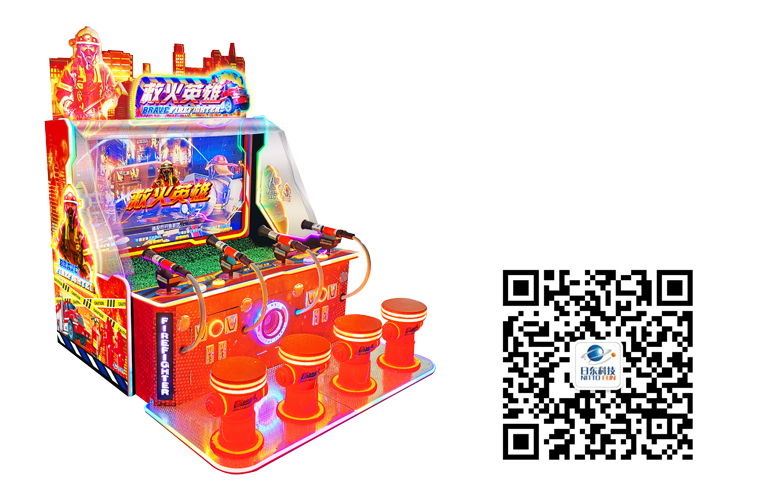 Booth No.: 1T22B Zhongshan Doremi Amusement Equipment Factory
Doremi is a professional enterprise specializing in the design, development, production, sales and after-sales of "trains and trackless (battery) trains". Since its establishment, Doremi has always focused on the development and manufacturing of mid-to-high-end small trains, and is committed to keep improving on the basis of its products. Through continuous exploration and improvement of production technology, it strives to launch diversified products. Through the analysis of customer needs, different adjustments are made to ensure the revenue of operators at different locations. In addition, Doremi adheres to the principle of "to survive by quality, to develop by innovation". It has a machinery production workshop of 7,500 sq.m and a glass fiber reinforced plastic production workshop of 2,500 sq.m.
Bullishness (Trackless Train)
Headstock Dimensions: 2000 x 1000 x 1800mm
Carriage Dimensions: 1200 x 1000 x 1400mm
Length: 98000 mm
Capacity: 20 people (10 children + 10 adults)
Maximum load: 1100kg (5 carriages)
Turning radius: 2.5m
Maximum speed: 7km/h (full load)
Power supply: DC 48V
Working voltage: 12V-18V
Working current: DC <20A (average value)
Storage battery: 48V-150A (lithium battery)
Charger: Fully automatic smart charger (48V/25A)
Charging time: 5 hours
Endurance mileage: about 80km (average speed ≤ 7km/h, 10-12 hours)
Power: 3kw (brushless motor)
Brake system: electromagnetic automatic brake





Booth No.:1T20B Guangzhou Lida Animation Technology Co., Ltd.
Lida is a professional enterprise engaged in the R&D, production and sales of gift machines. The headquarters is located in Huachuang Animation Industrial Park, Panyu District, Guangzhou. Lida adheres to the business philosophy of "customer-oriented, high-quality" as the foundation, and regards high-quality service as the means, and customer satisfaction as the goal", technology-oriented, continuous product innovation, and always adhere to "quality first, reputation first, professionalism first". Win by quality, win trust from customers, lida firmly believe that "every product is an advertisement", it is committed to the absolute preferential price, first-class products, perfect service to win the trust of customers.
Space Capsule
Features:
1. Fully transparent cabinet, black frame with colorful lighting strips, break the traditional aesthetic thinking, fashion & design sense, generate high footfall.
2. High quality products, trustworthy.
3. Professional manufacturer with considerate services.
Dimensions: L950 x W810 x H1950mm
Power: 220V/500W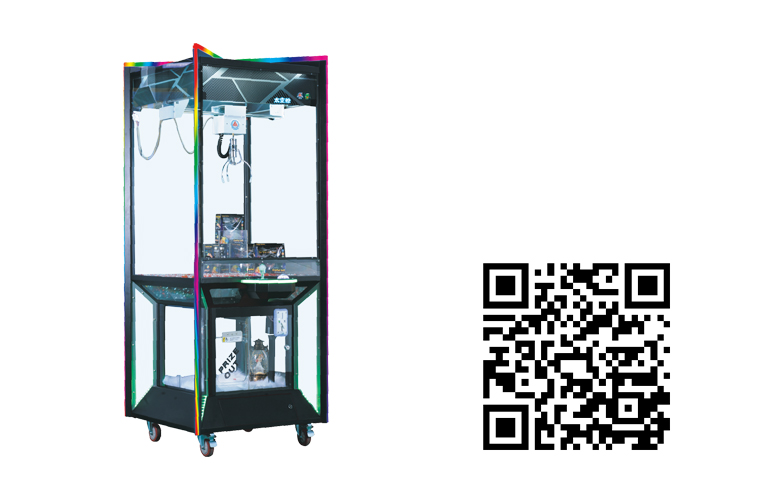 Booth No.: 2B18 Guangzhou Zuan Bao Technology Co., Ltd.
Zuan Bao is a professional crane & gift machine manufacturer integrating R&D, design, production and sales. It has long-term cooperation with major brands in mainland China and Taiwan for OEM and ODM cooperation. The company is the domestic general agent of Taiwan's "sensory integration training", and boasts the exclusive authorization for its "3D Track Dribble" science and education brand products. From Taiwan to the mainland China market, Zuan Bao team with its rich production experience and professional service, adheres to "details determine success or failure, integrity wins the world" and creates its own reputation and brand step by step. Zuan Bao has independently developed a good many products. Its main products include 3D Track Dribble series products, various gift machines, Infrared temperature-sensing disinfection and security inspection machine, which are widely sold at home and abroad.
3D Track Dribble
Features:
1. 100% Taiwanese artisan craftsmanship, meticulous high-quality woodworking combined with hardware chassis with three different challenge levels: elementary, intermediate, and advanced. Players can challenge and train for each level separately.
2. 3 coins for 3 balls per round.
3. Press the start button, the machine will automatically drop a marble to the starting position. The player uses the balance bar to swing left and right to control the speed of the marble, and the marble is successfully transported to the end point.
4. The machine can place capsules/ redemption tickets/ cards.
Dimension: W450 x D560 x H1270 mm (including signboard 1410mm)
Weight: 40kg
Power: 100-250W



Booth No.: 2T21 Airo Amusement Equipment Co., Ltd.
Airo is a comprehensive enterprise specializing in the R&D, design, production, sales, operation of parent-child amusement equipment. Airo's goal is to upgrade children's indoor playground and amusement equipment to a new level. Airo insists on exploring the market, creating safe, high-quality products and providing caring services. It is committed to developing into a first-class children's amusement products manufacturer. Airo provides professional overall planning, program design, production and installation integration services.
Themed Inflatable
Address: Changsha, Hunan province
Area: 650㎡
Floor height: 8.8 meters



Booth No.: 2T01B Ebulliency Arts Engineering Co., Ltd.
In 2009, Ebulliency was established in Zhongshan, Guangdong. It is a professional organization that focuses on domestic and foreign themed amusement spaces, parent-child spaces, trendy video game spaces, themed commercial spaces, cultural tourism characteristic towns and amusement supporting decorations. The company has gathered many professional designers from well-known art academies such as Guangzhou Academy of Fine Arts and Central Academy of Fine Arts. Since the establishment of the company, it has always been the ultimate goal of the company to meet customers' expectations, focusing on preliminary research, field inspections, environmental research, and providing professional and accurate investment and income analysis based on customer project needs, and offering professional solutions and suggestions.
Ebulliency adheres to the unique style of creative design, people-oriented, trendy, experience aesthetics and the perfect combination of commercial marketing design concepts. It insists on good design and money-saving design, in order to provide customers with the best creative design scheme, and strive to select the highest cost-effective materials, construction technology and site management, for customers to save unnecessary costs.
Park Planning / Scheme Design






Booth No.: 2T06 Guangzhou Rongxiang Animation Technology Co., Ltd.
Founded in 2003, Guangzhou Rongxiang Animation Technology Co., Ltd. (Rongxiang) is located in Panyu District, Shiqiao Town, Guangzhou - China's large game machine production base, where enjoys a convenient transportation. Rongxiang boasts a professional technology development team, engaged in R&D and production of carnival game machines, somatosensory game machines, full-motion simulators, redemption machines, gift machines, etc. All of them have obtained various national patents. Its products are available for video game centers, parks, tourist attractions, playgrounds, supermarkets, shopping malls, clubs, entertainment venues and fitness rooms.
Constant change and innovation are the ways of survival for an enterprise. Rongxiang adopts cutting-edge and trendy social concepts, and the elements and gameplay of its products are also the most popular in the industry. It is precisely because we are constantly innovating and changing and have created a very wide range of customer groups, including families, couples and teenagers. Its products are widely sold nationwide and exported to Europe, America and Southeast Asia. The high-quality products and thoughtful service have made Rongxiang won a good many players and customers from all over the world.
Castle Park
Features:
1. Innovative sticker gift machine.
2. Multiple gifts can be placed at the same time.
3. Stickers, cards, red envelopes can be placed on it.
4. Simple gameplay, high revenue.
5. Two seats, allowing two people to play at the same time.
Dimensions: 1780 x 1250 x 2600mm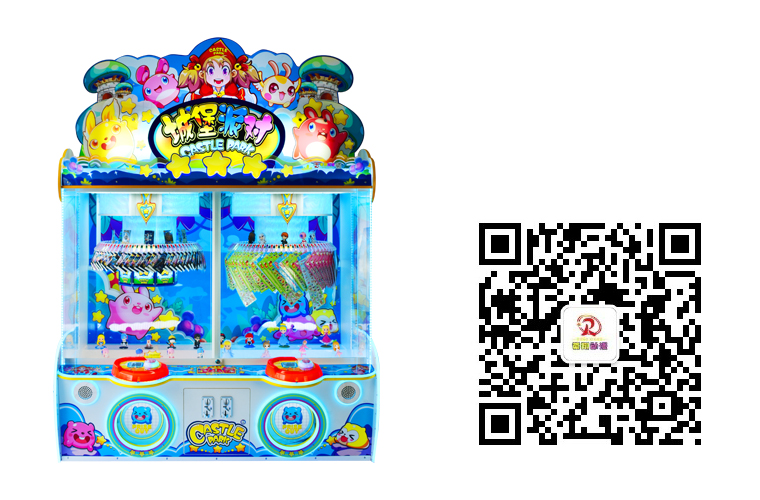 Booth No.: 4T03A Fuzhou Zhongshang Trading Co., Ltd.
Zhongshang is a professional enterprise specializing in the R&D, production and sales of DIY educational toys. It is a well-known supplier of canned flowers and educational toys. At present, its two main series of products: fashionable gardening and children's DIY educational toys. There are more than 1,000 online products featuring novel design, unique creativity, which are favored and recognized by customers and consumers. Not only are they sold throughout China but also exported to overseas markets such as Europe and the United States. Its sub-brands "Xiaohuanong", "Castle Park" and "Xi'er Paint" have a high market share. In the face of the strong momentum of development, Zhongshang continues to pursue excellence and its sales has reached new highs.
Pinot Archaeological Museum
Features:
1. An educational adventure and entertainment project suitable for children aged 4-12.
2. Simulate all aspects of the archaeological process, children can dress up to play as an archaeologist.
3. The game is divided into two areas: Treasure Hunting Area - imitating archaeologists' exploration, improving physical strength, courage, analytical skills, and perseverance; On-site Excavation Area - simulate archeological excavation work, cultivate carefulness, patience and learn archeological knowledge.
4. Cultivate children's interest, educating through fun.
Booth No.: 3T12B Guangzhou Pipixia Animation Technology Co., Ltd.
Founded in 2020, Pipixia is a professional enterprise focusing on the R&D of high-quality games. The core team members have more than 20 years of experience in the R&D of the game industry. As a rising star in the game industry, Pipixia adheres to the concept of "creating happy games & supreme experiences". With dedication, profession, and concentration, we create high-quality games and amusement equipment. At present, Pipixia has established good cooperative relationship with several well-known domestic and foreign companies such as Zhenkuaihuo, Juwantang, Xuanku, Sky City, etc. At the same time, it has entered overseas markets and made many breakthroughs. We always believe that a focused attitude is the foundation of a foothold, unremitting learning is the source of progress, timely communication is the foundation of efficiency, and action is the key to success.
Sanzang Overcomes Demons
Features:
1. Innovative gameplay, 2-in-1 fighting and shooting.
2. High-revenue redemption machine.
3. High-end customization, 1-to-1 service.
4. A must-have in arcades.
5. Approved by Ministry of Culture.
Dimensions: 2200 x 900 x 2400mm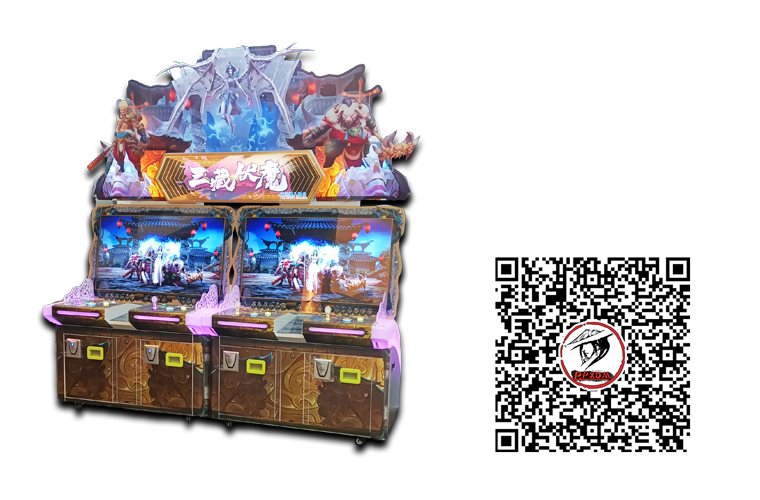 Booth No.: 4T01B Guangzhou Tongru Electronics Technology Co., Ltd.
Founded in 2015, Tongru is located at the Guangzhou Panyu Animation Industry Base - Guangzhou Panyu Startoon City. It is an experienced manufacturer of large amusement equipment integrating R&D, production, and sale. The main products of Tongru include children's swing machines, redemption machines, gashapons machines, and arcade machines, which have been awarded lots of national patents and introduced to the famous parks like Chimelong, Big Player, and Happy City and exported to foreign countries like Japan, Korea, South Asia, the Middle East, and America.
Joy Ride
Features:
The bright-colored shape is eye-catching.
A variety of styles to meet different needs.
Quality materials, safer and durable.
Dimensions: 1060 x 768 x 847mm
Power: 180W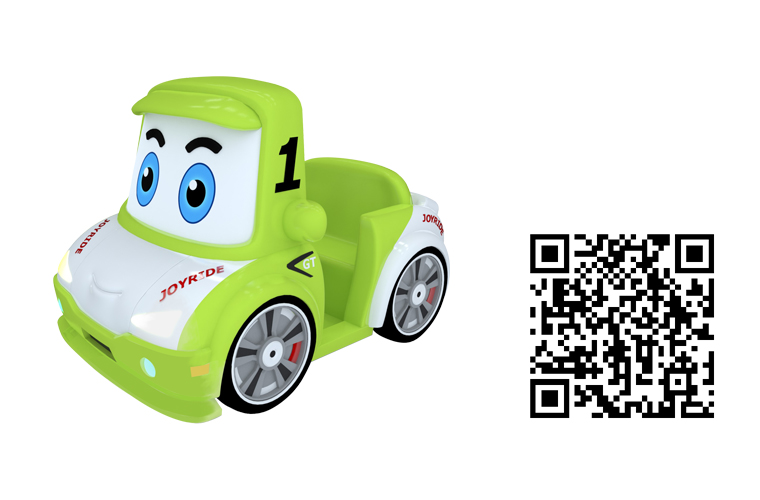 Booth No.: 5T07C Guangzhou BeiLeXiong Trade Co., Ltd.
Being a professional supplier of plush toys, BeiLeXiong is mainly focusing on the development and sale of various plush toys ranging from 9-11 inch adapted to the crane machines, scissors machines, and gift machines. Up to now, BeLeXiong has formed a completed partnership network with many enterprises. Over many years, BeLeXiong has always pursued the idea of innovation, characteristic, quality, friendly, and honesty, to move into a new era with its customers together. In addition, BeLeXiong also provides sample processing, and customized service.Plush Toys
Booth No.: 3T23B Guangzhou Ruixi Technology Co., Ltd.
Concentrating on the field of animation & game products and amusement equipment, Ruixi is an innovative enterprise which independently develops, produces, and sells redemption machines, children's entertainment machines and carnival machines. The founder of Ruixi has nearly 10 years of experience in the industry. Adhering to the concept of "pursuit of excellence, creation of quality products", Ruixi strives to achieve the goal of meeting every customers' needs, creating profits and providing quality services. Its products are selling widely in countries like the United States, the United Kingdom, Ireland, France, Italy, Russia, Turkey, Spain, India, South Africa, Brazil, Indonesia, Philippines, Singapore, and Australia besides major cities throughout China.
Christmas Carnival
Features:
1. A mechanical + video game redemption machine.
2. A traditional pinball game combines with beautiful Christmas snow and ice theme, which is interesting and eye-catching.
3. The game is highly engaged and generates significant revenue.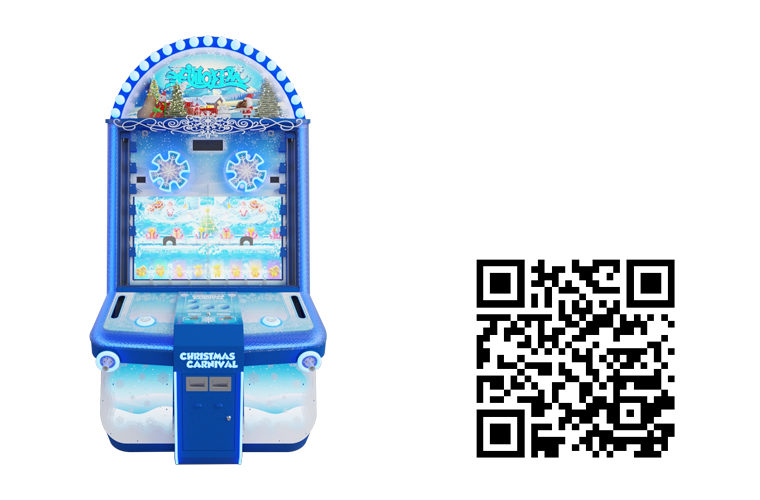 Booth No.: 4T04 Guangzhou Kaifa Amusement Equipment Co., Ltd.
Located in Guangzhou Panyu - the animation entertainment industry base, occupying a large-scale production factory of 20,000 sq.m, Kaifa owns its Xingli Branch, Hengran Branch, Dami Huanyi Decoration and High Hip-Hop Operation and Management. Its business projects include Themed Children's Park, Edutainment DIY Venue, Sports Building, Super Trampoline, Driving School, Bubble Technology Hall, Million Ball Pool, Atrium Expansion Activity, CS, and Beach Park, to name some. Kaifa is a one-stop comprehensive service company that is involved in the businesses of site selection, research and evaluation, the planning, design, decoration, production, installation, after-sales, operation planning and franchise of the whole themed site.
Kaifa has been committed to providing safe, novel, and reliable amusement equipment for the major theme parks in China, and has accumulated a lot of experience in customized services, which receive good feedback from many customers at home and abroad. Its High Hip-Hop children theme park has settled down in hundreds of commercial malls because of its fixed goal of aiming at shopping malls. High Hip-hop focuses on the experience operation of amusement projects, providing customers with a wealth of products and accurate services according to different positioning and level.
Whole Themed Venue Planning





Booth No.: 2T24A Guangzhou Yiru Animation Technology Co., Ltd.
Located at Guangzhou Panyu Amusement Equipment Base - Startoon City, Yiru is engaged in the production of water-heated ball washing machine, ultrasonic atomization disinfection ball washing machine, FRP fishpond, transparent feeding fishpond, double sand table, ultrasonic atomization disinfection machine, parent-child amusement equipment (gashapon machine, card machine, redemption machine), among others. Yiru has a complete system in the links of design, manufacturing, sales and after-sales, and is committed to providing every customer with high-quality service and products.
Greedy Cat
Features:
1. With a complete filtration system and aerator, players can feed milk fish, catch small goldfish, and catch magnet fake fish.
2. The design is simple and generous, with a cute cartoon style, full of elements and a refreshing atmosphere.
3. With cats eating fish as the theme, scenes are created with story lines such as cats catching fish and fish asking for help, which is interesting, and catering to children.
4. There are LED anti-watercolor lights around the fish pond, and the flashing lights create strong visual impact and has strong appeal.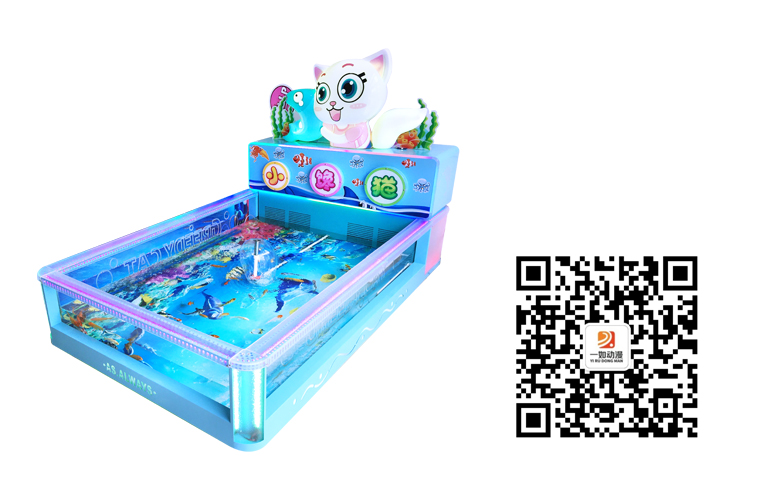 Booth No.: 3T21C Zhongshan Bada Animation Technology Co., Ltd.
Founded in 2007, Bada is a professional enterprise that develops and produces amusement park management systems and peripheral equipment, providing a professional one-stop service of R&D, production, and sales. It has dedicated hardware and software development engineers, independent electronics and machinery workshops, professional selling elite with annual sales volume of 30,000 sets. Its products have been widely recognized and praised by the industry and the market for high safety, convenience, and cost performance. The products also selling well in China and exported to many countries and regions such as Southeast Asia, Middle East and South America.
Self-service ticket deposit machine
Features:
1. Adopt a ticket-breaking movement with independent intellectual property rights and imported high-speed motors, integrating ticket-breaking, ticket counting and ticket deposit.
2. Tickets can be automatically counted or broken with high speed. 900 full tickets or 1,800 half tickets can be broken per minute. The tickets will not get stuck easily.
3. 21.5-inch high-definition operation interface, with ticket-pulling prevention, equipped with large-capacity recycling bin and ticket broken game.
4. Fully self-service, the card reading shows the number of broken tickets and the total number of broken tickets.
5. It can display the ranking of broken ticket, the ranking of the day, the ranking of the week, the ranking of the month and the ranking of the total tickets.
Dimensions: W520 x D430 x H1600mm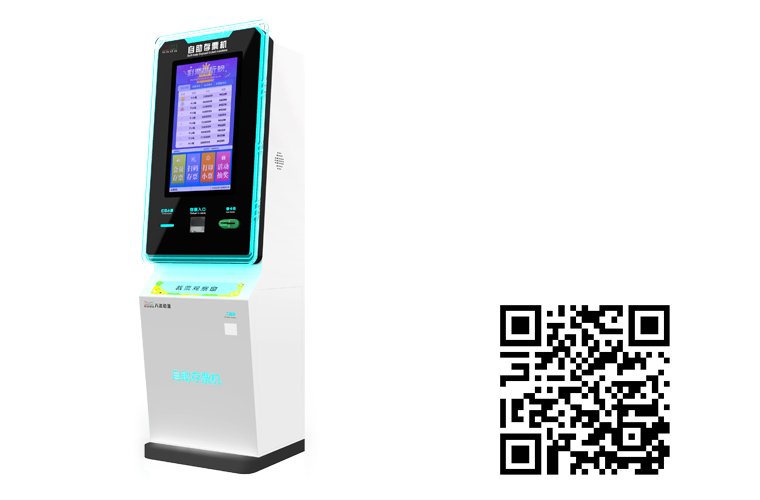 Booth No.: 3T11 Guangzhou Season Amusement Co., Ltd.
Founded in 2009 and located at Startoon City in Panyu District, Guangzhou, Season is a one-stop solution provider that focuses on the development, production, and market operation of claw crane machines, gift machines, scissors machines, and redemption machines. Season mainly supply all kinds of gift machines, claw crane machines, scissors machines, prize cut machines, redemption machines, and various IP derivatives. And Season has also formed a strong strategic alliance with many top enterprises in the game & amusement industry. Meanwhile, Season is a good partner and customizer with more than 40 chain game centers.