Serena Zheng / Jasmin Zhuang
Under the expectation of hundreds of amusement enterprises, the 11th GTI Asia China Expo (hereinafter referred to as GTI China Expo) finally took place on September 10. As soon as it started, tens of thousands of professional buyers who were waiting outside the A area of the China Import and Export Fair Pazhou Complex swarmed in. Their fierce passion was matched by the soundtrack of equipment in the exhibition halls.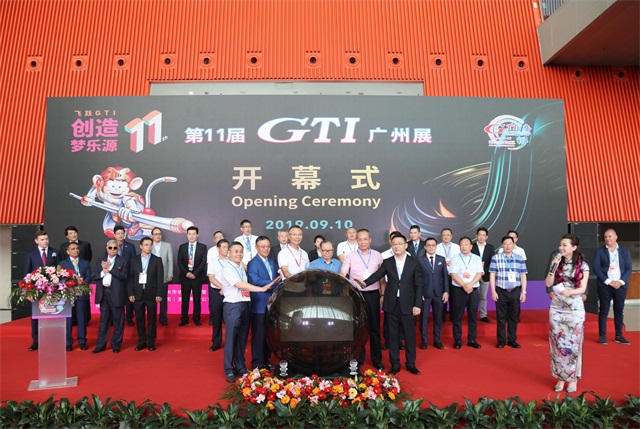 Curtain raiser: Elites gathering to create the future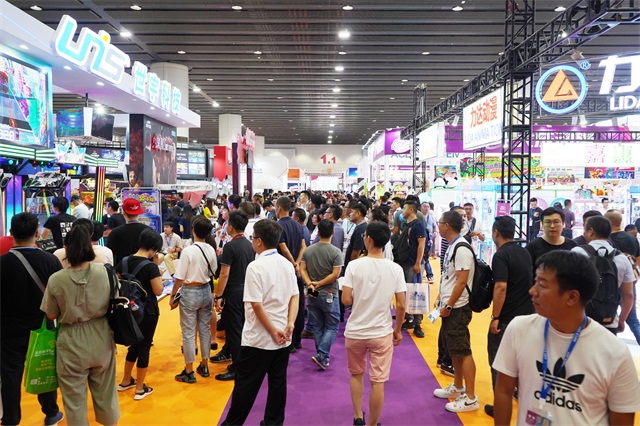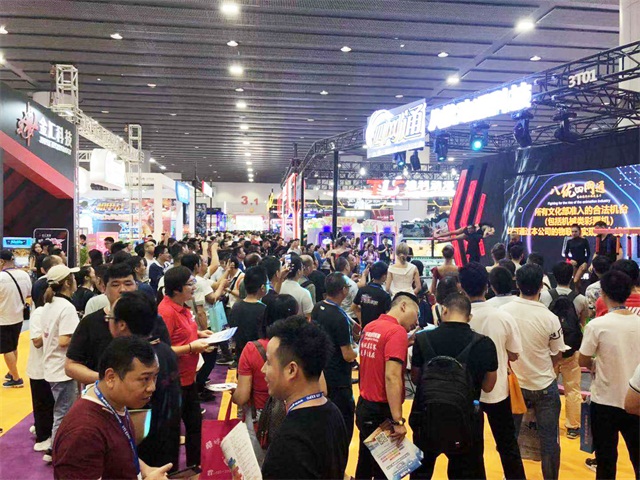 At 10 a.m., the opening ceremony was officially held. Attending guests included: Liu Jinhua, President of China Culture & Entertainment Industry Association (CCEA); Liao Yuxun, Deputy Director of Guangzhou Cooperation Office; Guan Zhisheng, Deputy Director of Standing Committee of Panyu District Guangzhou Municipal NPC; Yang Zhiyong, Office Director of Guangdong Provincial Department of Culture and Tourism; Jiang Nan, Captain of Guangzhou Cultural Market Comprehensive Administrative Law Enforcement Corps; Li Ting, Marketing Management Director of Shaanxi Provincial Department of Culture and Tourism; Luo Zheng, Director of Exhibition Promotion Office of Guangzhou Municipal Commerce Bureau; Lv Xuefeng and Xu Jianlin, Vice presidents of China Culture & Entertainment Industry Association(CCEA); Kong Ming, Secretary General of China Culture & Entertainment Industry Association(CCEA); Su Benli, Standing director of China Culture & Entertainment Industry Association(CCEA); Lu Xiaokun, Exc-President of Guangdong Entertainment & Game Industry Association; Zheng Bing, President of Guangzhou Panyu Animation & Game Association; Ye Weitang, President of Zhongshan Gaming & Amusement Association; Zhong Qiao, Vice President of Beijing Super Player Entertainment Co., Ltd.; Li Kezhu and Wei Mingshan, Honorary President and President of Taiwan Digital Entertainment Association(TDEA); Yang Yiqiang, Vice President of Taiwan Amusement Machine Association(TAMA); Wei Wenbin, Honorary president of Taiwan Gift Claim Vender Association; Ye Zhenkun, President of Parent-child Recreation Development Association; Paolo Dalla Pria, President of Associazione Nazionale Sapar; Sohansinh Jadeja, President of Indian Association of Amusement Parks and Industries; Igor Rodionov, Vice President of Russian Association of Amusement Parks and Attractions; Eng Kin Hoong and Tai Lee Chuen, Heads of ASEAN Games and Amusement Equipment Promotion Center; Chan Qixiong, Honorary President of The National ICT Association of Malaysia, PIKOM; Mei Yuezhang, Head of CGL Organizing Committee; Hu Huijun, Chairman of Beijing Huijun Culture Development Co., Ltd. and Senior Counselor of AEON Fantasy (China) Co., Ltd.; Ikeda Hirojirou, President of AEON Fantasy (China) Co., Ltd.; Sharif Rahman, CEO of Dubai Entertainment Amusement & Leisure Exhibition; Donna Belle Reyes, Administration Manager of IEC; Mr. Ren, President of Guangzhou Zhanhui Animation Science & Technology Co., Ltd.; Mu Xiangling, President of China Culture & Tourism & Park Industry Association; Wu Xinxiang, General Manager of Guangdong Daxin Amusement Intelligent Technology Co., Ltd.; Thomas Liu and Ouyang Yun, Chief Organizing Committee of GTI and other co-organizers along with domestic and foreign buyers and exhibitors.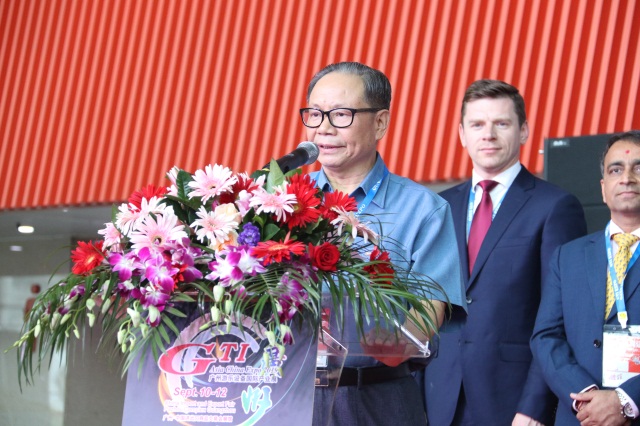 Liu Jinhua, President of China Culture & Entertainment Industry Association (CCEA)
Liu Jinhua, President of China Culture & Entertainment Industry Association (CCEA), first delivered a speech: he made a brief introduction to the general situation of the exhibition saying that GTI Expo has developed into the largest and most commercially valuable networking event in the industry in Asia, and it is a top-level amusement professional exhibition with strong influence. Besides, he elaborated on the new features of this exhibition:
First, meet the requirements of the state for the healthy growth of the culture and amusement industry, and clarifying the idea of promoting the transformation and upgrading the industry. In the exhibition area setting, it covers products in various fields of the industry, highlighting the special zones and the perfect match in cooperation, highlighting intellectual property rights in independent research and development, as well as highlighting interconnection and intercommunication in the culture and entertainment industry ecological chain. In terms of industry standards, opinions were collected on relevant national standards and industry terminology of the amusement industry, highlighting the standard construction.
Second, support the industry to build an effective platform for cultural trade, technology exchange, information interaction and government-enterprise connection, industry and market connection. This exhibition was the first time to invite Super Player and AEON respectively on behalf of Chinese and overseas leading chain enterprises to attend the expo, to achieve seamless integration between the industry and the market, and greatly enhance the connotation of the expo.
Third, during the celebration of the 70th anniversary of the founding of the People's Republic of China, we would promote positive energy throughout the industry. Before this exhibition, China Culture & Entertainment Industry Association conducted a theme education activity of "Never Forget Why You Start and Keep the Mission in Mind" for China's amusement industry. The main responsible persons of domestic amusement enterprises actively participated, and the industry presents innovative integration and healthy growth trend.
Finally, Liu Jinhua said that promoting the healthy growth of China's culture and entertainment industry is our common responsibility; let us keep our original intention in mind, work together to create a better future.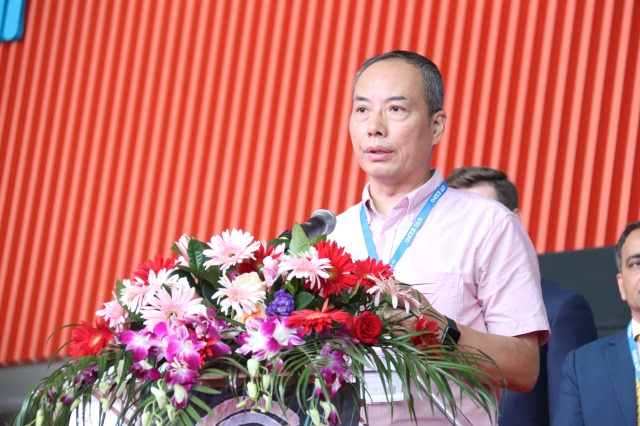 Liao Yuxun, Deputy Director of Guangzhou Cooperation Office
Subsequently, Liao Yuxun, Deputy Director of Guangzhou Cooperation Office, made a speech.
In order to meet the development needs of the industry, GTI Expo will continue to develop water parks, business premises and other industries on the basis of maintaining the original video-game venue, to enlarge the scale of global exhibitor recruitment, to exhibit novel and innovative products and organize more events and provide more opportunities for industry leaders to conduct cross-field and cross-entertainment cooperation, to warmly invite professional buyers from ASEAN, South America, South Africa and other countries involve in The Belt and Road Initiative. He said that GTI Expo has become an annual event to join hands with the world and is currently the top amusement industry exhibition in Asia.
Liao Yuxun also said that Guangdong Province is the center of amusement world, and Panyu and Zhongshan are the most concentrated industry cluster of amusement industry. The government will vigorously support the technological upgrading of the amusement industry and promote the industry. There was an intellectual property protection and complaint center to protect the growth of the industry.
At the same time, the development strategy of Guangdong-Hong Kong-Macao Greater Bay Area formulated by the state has provided solid foundation and institutional guarantee for the growth of China's cultural and entertainment industry. The municipal government of Guangzhou has adopted a plan to jointly build a modern industrial system with international competitiveness in Guangdong-Hong Kong-Macao Greater Bay Area. It is clear that Guangzhou should focus on high-quality development and regard it as the main goal, with advanced manufacturing, strategic emerging industries, modern service industries, and marine economy,to create "the world's display capital", "the world's customization capital", "the capital of the animation and game industry." In the end, he expressed his sincere wish that every manufacturer could find tremendous market opportunities at GTI Expo and contribute to creating a better future for themselves.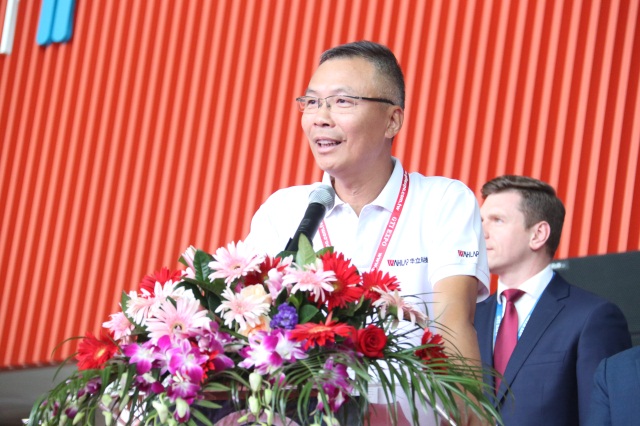 Su Benli, Standing Director of China Culture & Entertainment Industry Association(CCEA)
Su Benli, Standing Director of China Culture & Entertainment Industry Association(CCEA), delivered a speech.
The rapid development of video games in the integration of culture and Sci-Tech has made considerable progress in the amusement industry in terms of recognition and popularity, providing tons of business opportunities to the industry. Ten years of hard work and 11 years of growth were tough for GTI team. We have witnessed the efforts and progress of the organizing committee and the industry. The exhibition has developed from the first edition of 9300 square meters to 80,000 square meters now, which has increased by 800% in 10 years. The number of exhibitors has grown from 110 at the beginning to 560 today, an increase of 509%.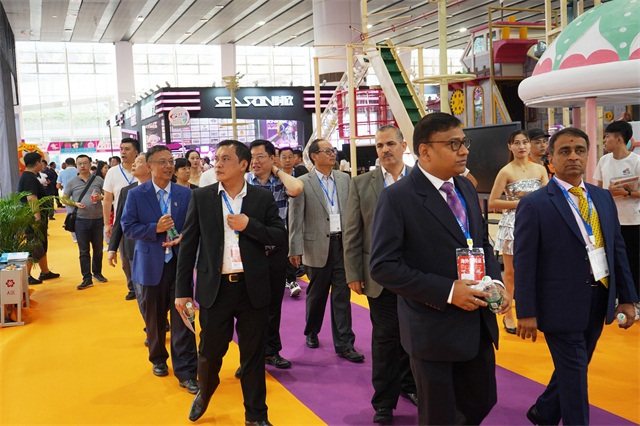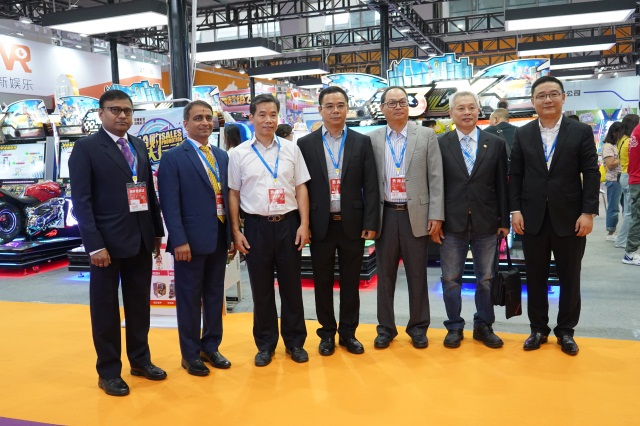 This year the organizer of GTI Expo has expanded domestic demand and enhanced export sales. First, they held a number of networking events, converging a good many industry elites, fully tapped the market growth hotspots, maintained strong domestic demand. Second, increased the international influence of the exhibition and invited overseas buyers from 65 countries to the show. GTI team also promoted their expos in the United States, Britain, France, United Arab Emirates, Russia, Colombia, Turkey, Brazil, India, South Africa besides in China.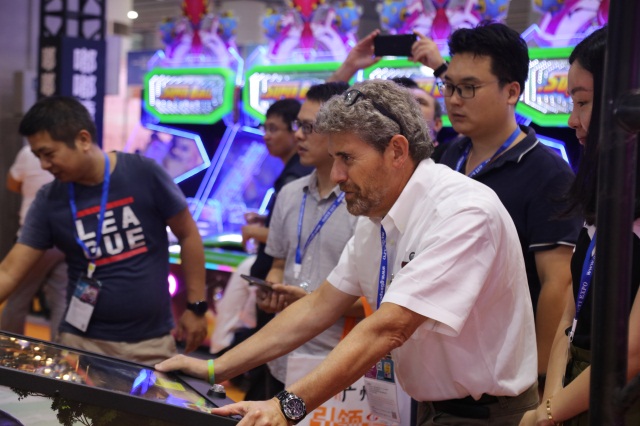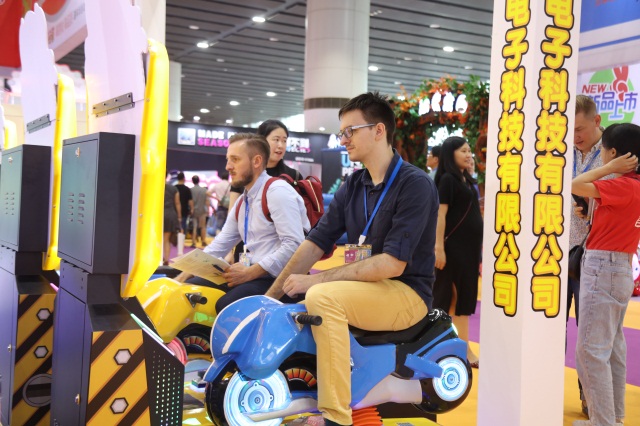 Grand exhibition: Numerous enterprises compete with each other
Born in 2009, GTI Expo is organized by China Culture & Entertainment Industry Association (CCEA), Guangzhou Cooperation Office, GTI Organizing Committee, co-organized by GTI/Haw Ji Co., Ltd. and Guangzhou Convention & Exhibition Service Centre Co., Ltd.. Since 2013, the expo has started to grow steadily and continuously in scale and the number of exhibitors. In recent years, the trade show floor has developed to 80,000 square meters, and it attracts more than 550 exhibitors and over 100,000 visitors.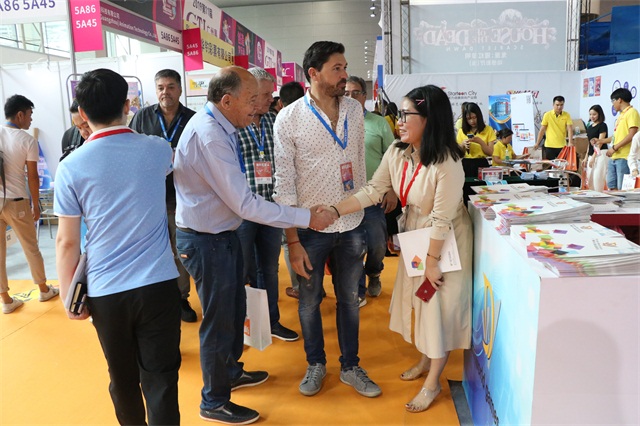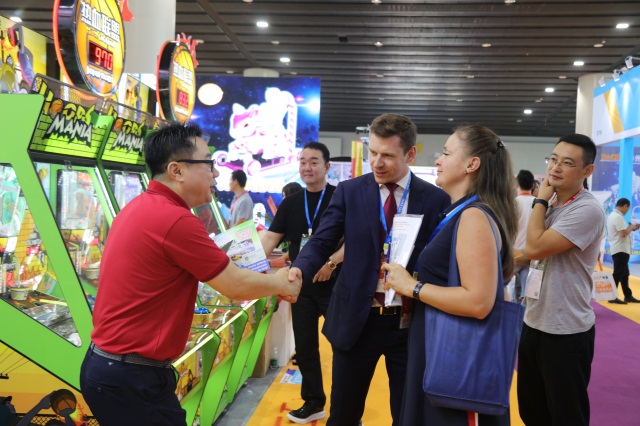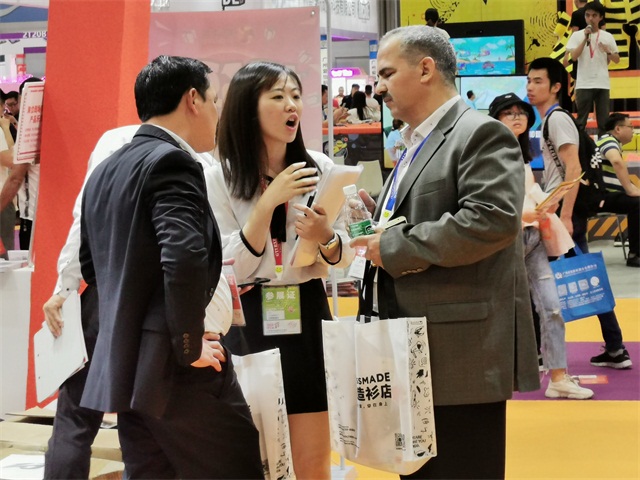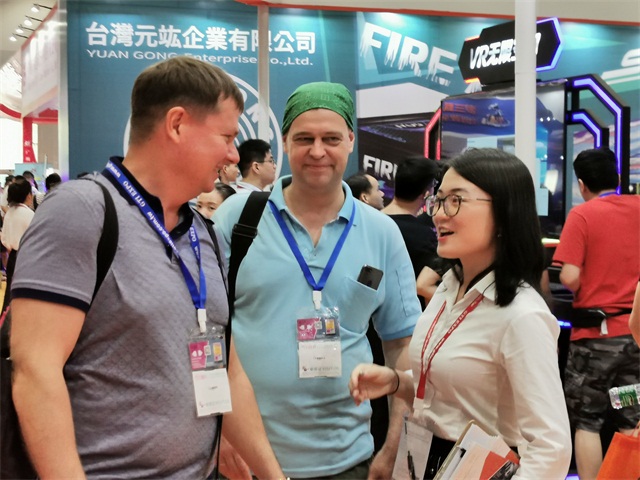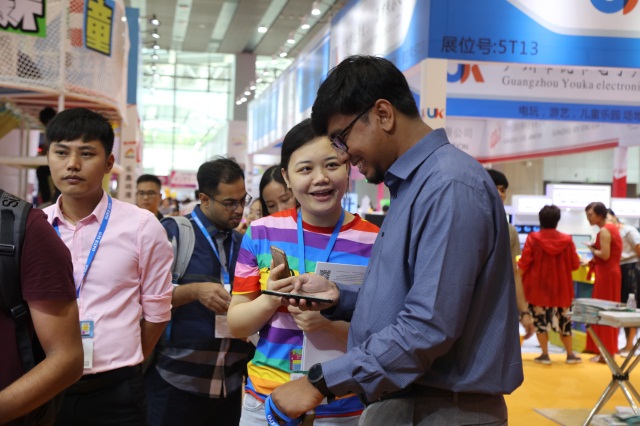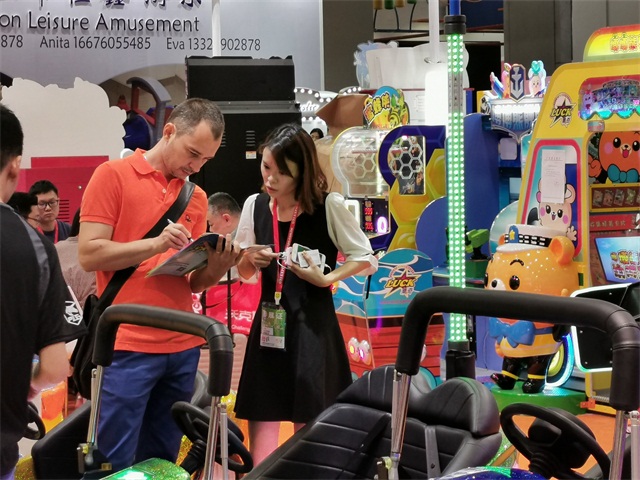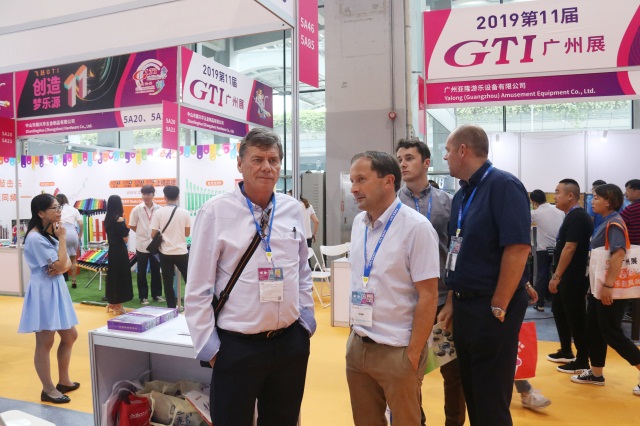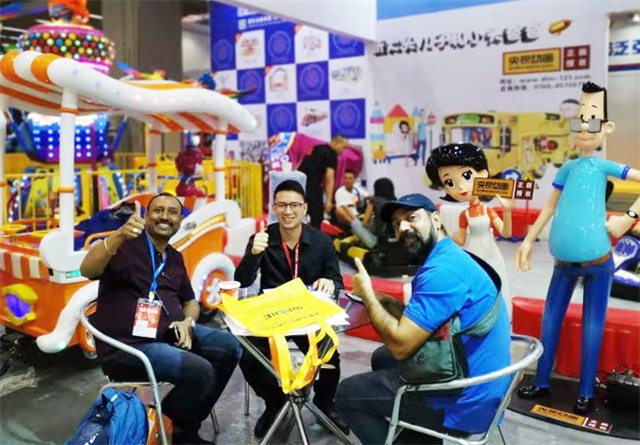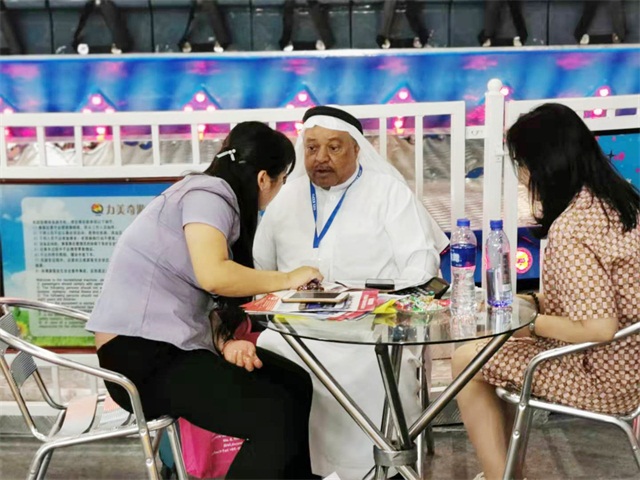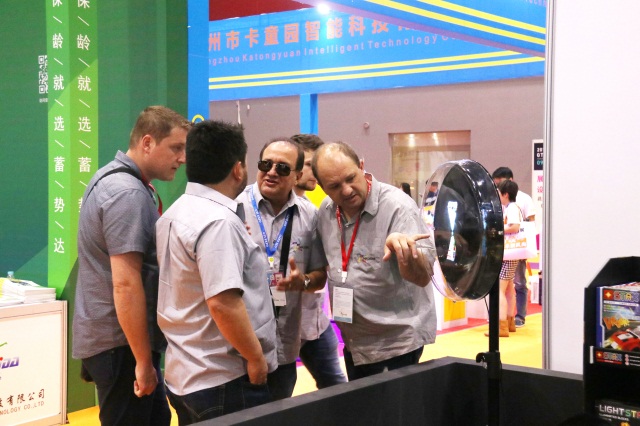 The exhibitors were over 560 (some 200 new exhibitors), including well-known exhibitors from Beijing, Guangdong, Shanghai, Anhui, Shandong, Jiangsu, Zhejiang, Liaoning, Heilongjiang, Henan, Hebei, Hubei, Jiangxi, Shaanxi, Shanxi, Sichuan, Hong Kong, Taiwan, such as Jiuyou, Zhanhui, Sealy, Arccer, Nitto Fun, Superwing, Zhuoyuan, Prodigy, ACE, Elephant, Play More, Yi Eel Shang, Baishun (Huatai), Bayou, M-Sky, JiXingLeYuan, Season, Huatong, DreamFuns, Leke VR, Sea, Mecpower, Funshare, Flying, Movie Power, Shunhong, LeYaoYao, Hongxin Internet, UNIS, Wahlap, Hengli, Jiaxin, Yonee, Airo, Domerry, BingXueRunDong, China Children's Industry Exhibition Trading Base, just to name a few. It also included foreign exhibitors from the UK, Japan, Korea, France, India, Dubai, Russia, New Zealand and other countries, such as AiQ Synertial from the UK and STUDIO ODIN Inc. from Korea.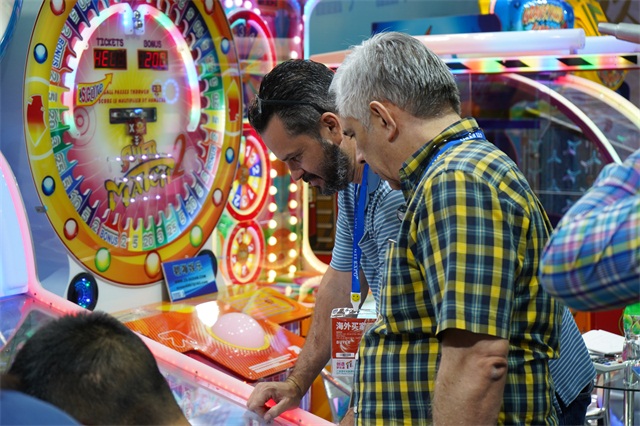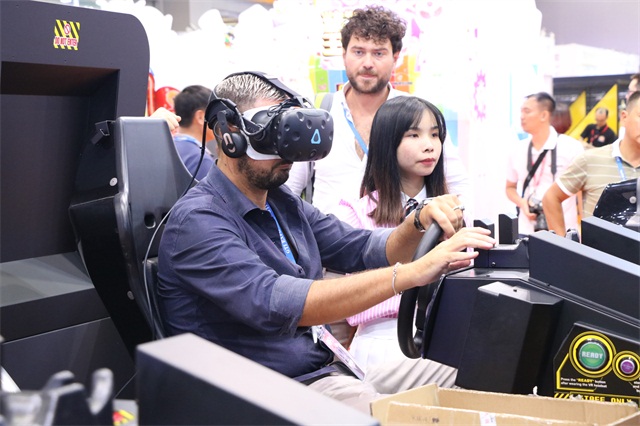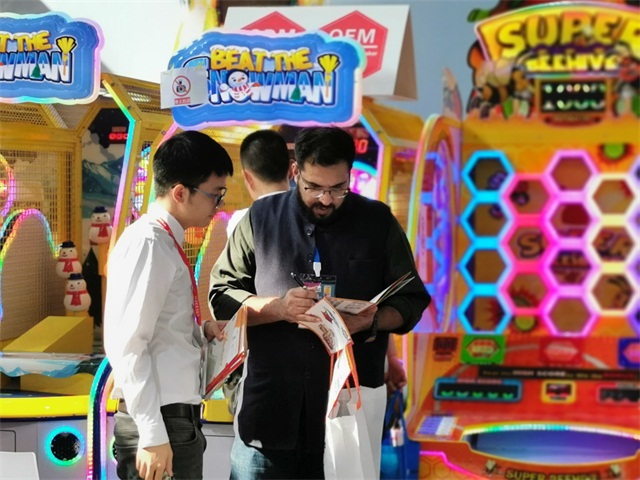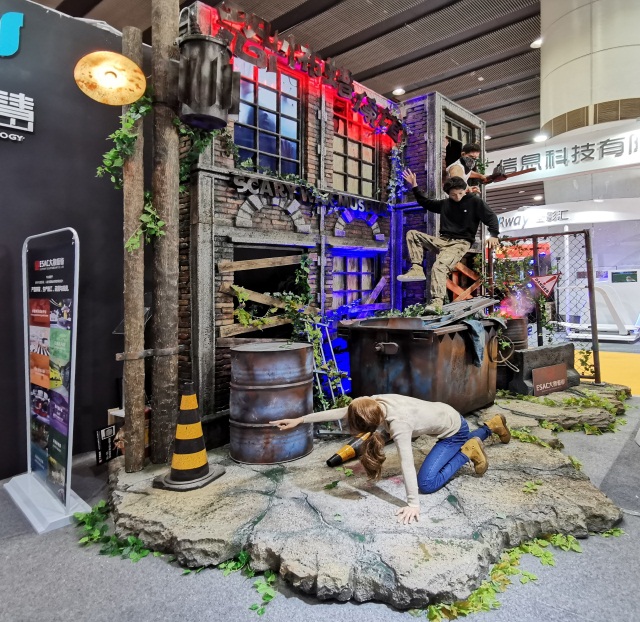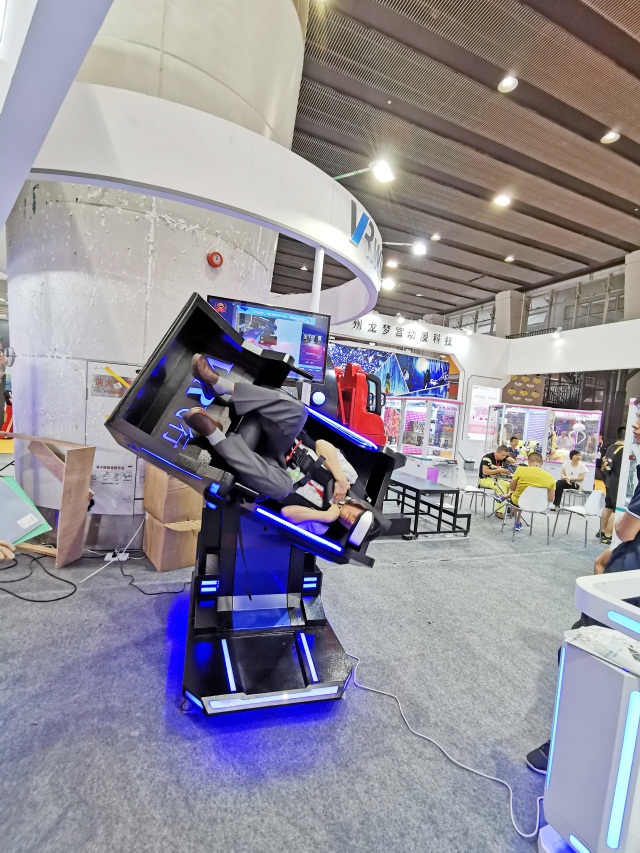 The gradual systematic planning team, publicity team and service team all indicated the increasing maturity of GTI Expo. Perhaps in the eyes of many insiders, it is not only a trading platform and communication window, but also an international stage witnessing the growth and expansion of China's amusement and a key link linking the world's amusement.
Focus: show cross-boundary new products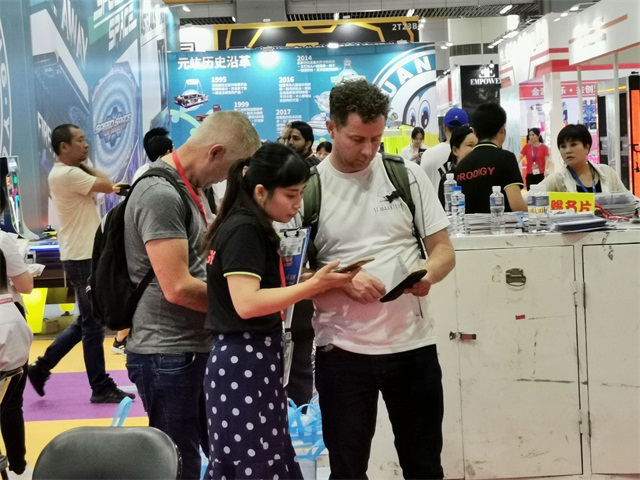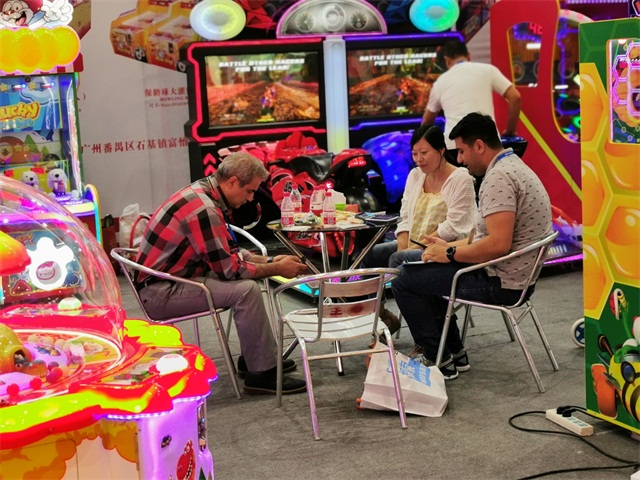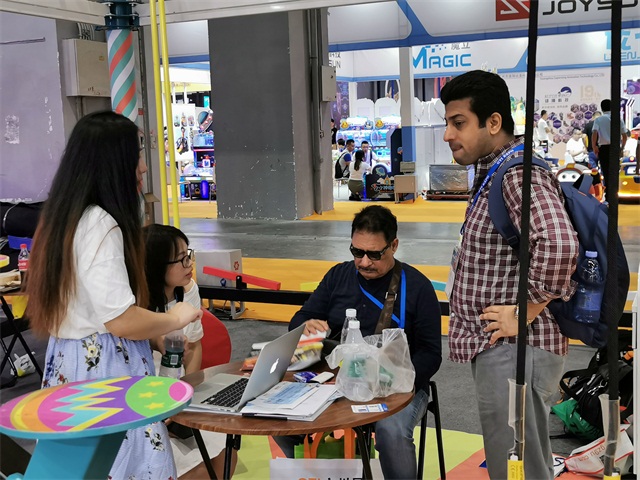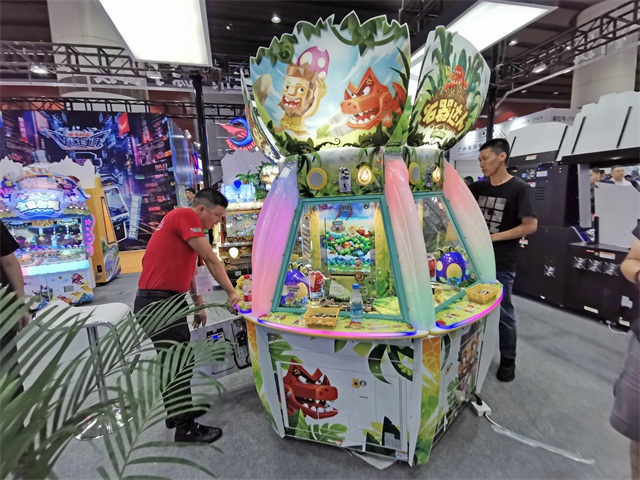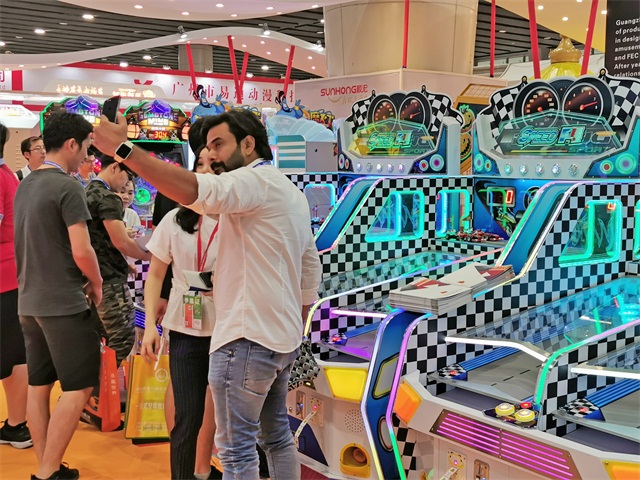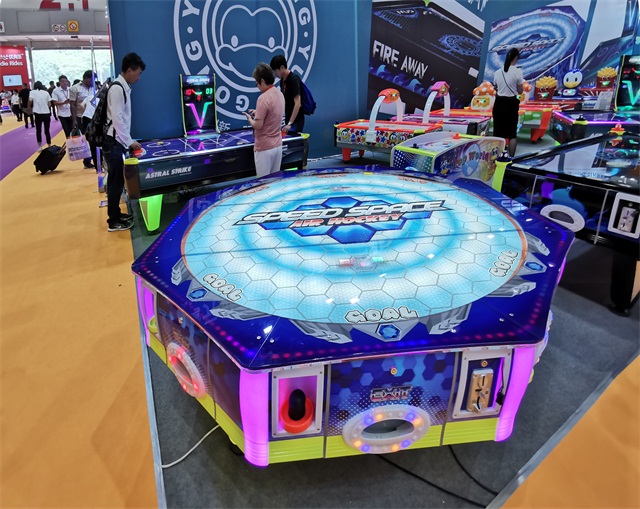 The GTI Expo exhibited a wide range of exhibits, including children's amusement equipment, video games, amusement park facilities, VR/AR/MR, park planning, parts and accessories, amusement park environment and art design, cultural and creative IP, R & D of systems and other related industry chain clusters, as well as many self-service amusement equipment combined with new retails. The organizer has actively expanded the scope of exhibits, and established a new large-scale amusement & water park equipment zone, attracting a number of outdoor/large/water equipment exhibitors such as Entre Prises (French) and Daxin. GTI Expo follows the growth trend of large-scale, integrated theme parks, providing more choices for professional buyers.
Generally speaking, the exhibits were more diversified and comprehensive in comparison with the previous year. Last year's hot product crane machines and capsule machines showed a cooling trend this year, while VR/AR/MR, dancing machines, coin pushers and trampolines were particularly hot this year.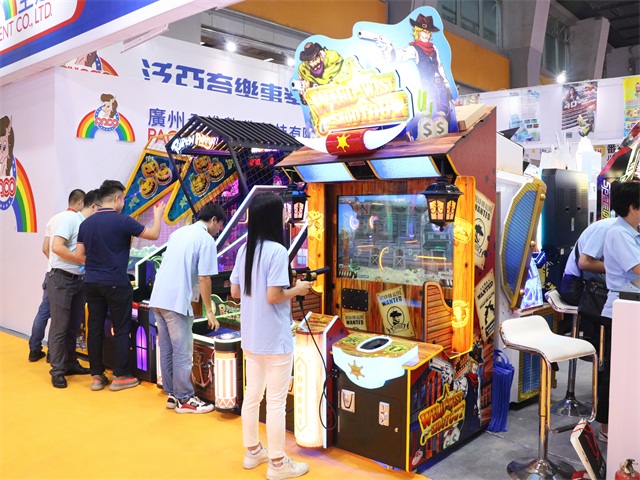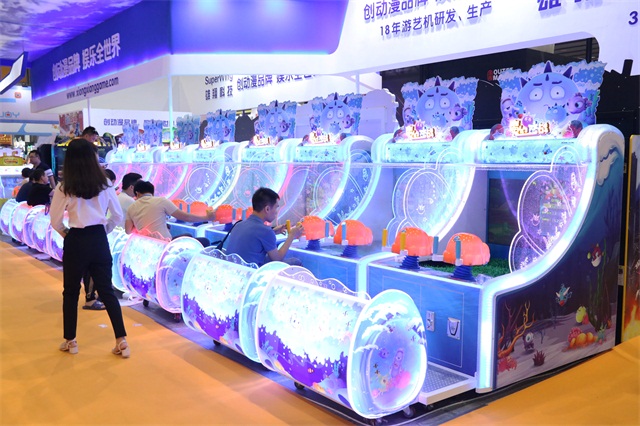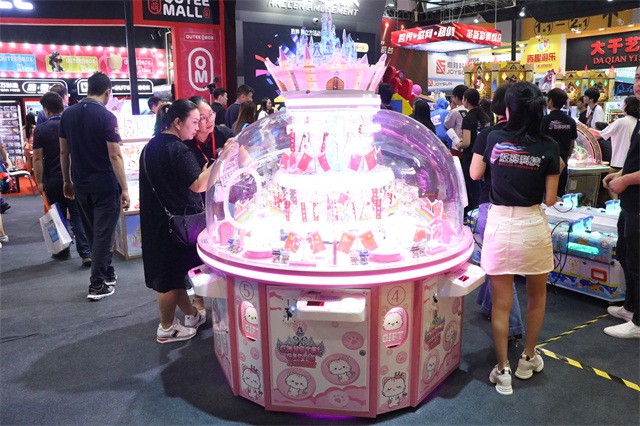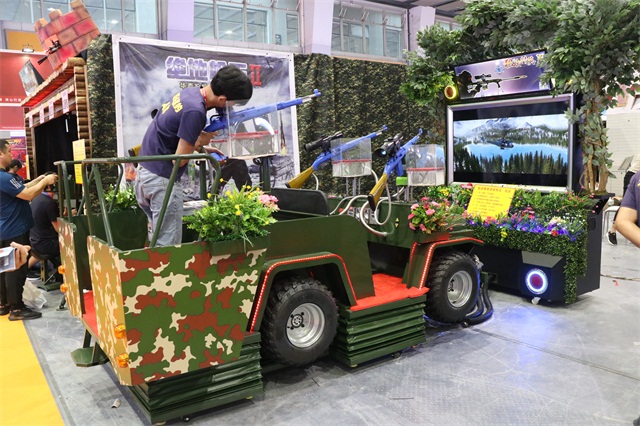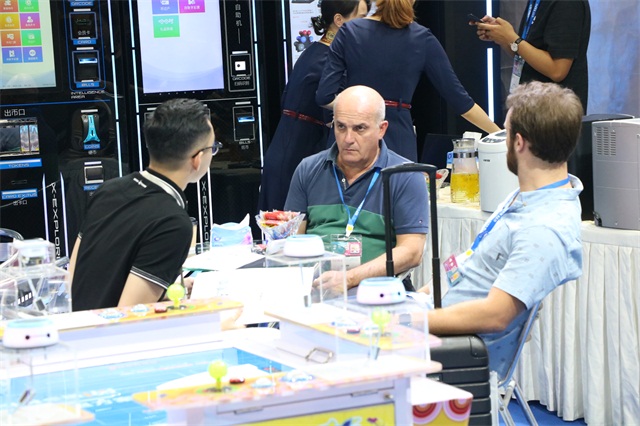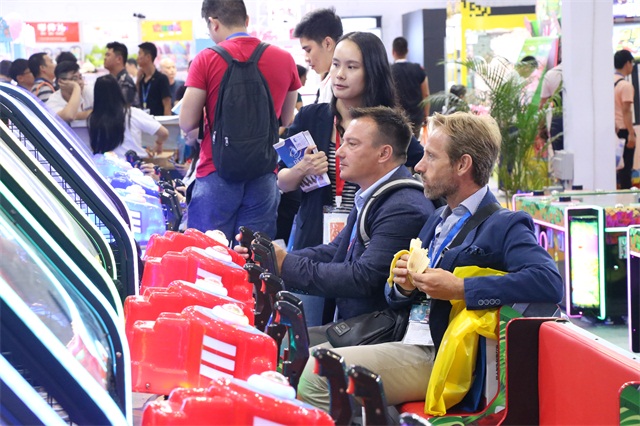 In addition, the special zone was also a major feature of this year's exhibition. For example, Animation Street Zone were in Hall 5.1, VR/AR zone in Hall 6.1, park operation & franchise zone in Hall 7.1, and large amusement & water park equipment zone in Hall 8.1. Animation Street Zone gathered a series of enterprises specialized in R&D and production of tokens, tickets, buttons, cranes, power supplies; enterprises in Park Operation & Franchise Zone such as AEON and Super Play strove to make a break through. For those newcomers, Park Operation & Franchise Zone provided a direct platform for exchanging, help both sides to solve operational problems and make innovative breakthroughs, promote cooperation; KOCCA joined VR/AR zone with 8 members.
Promising future: Rise to Glory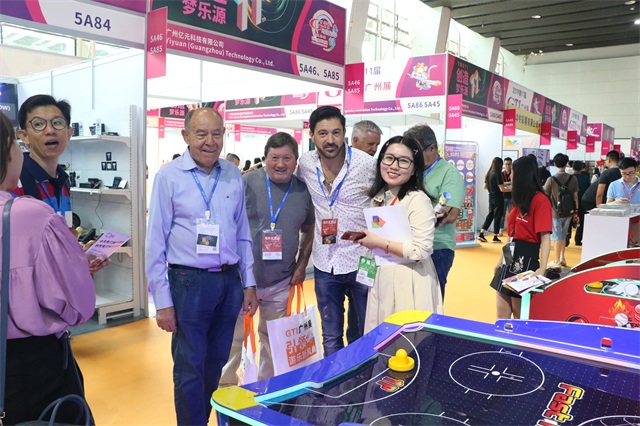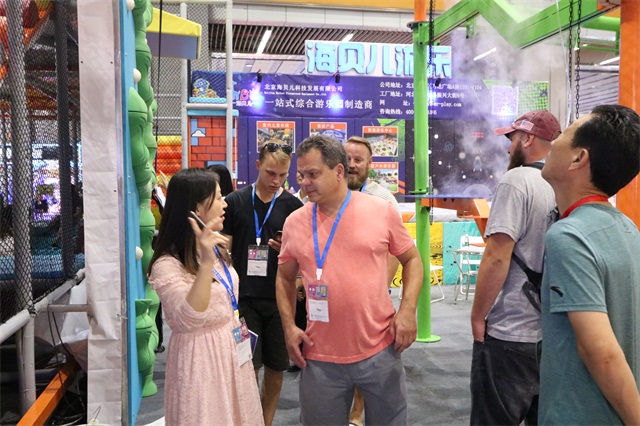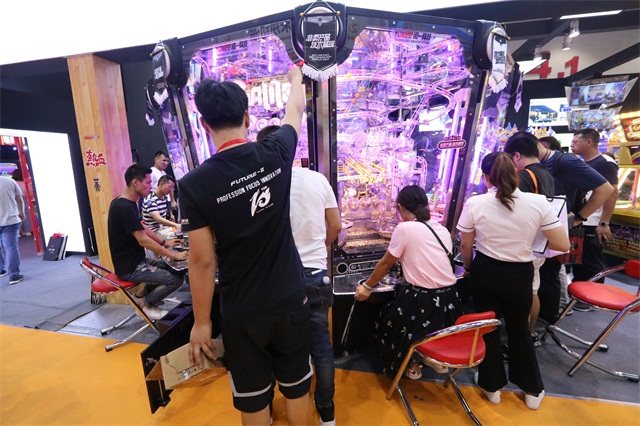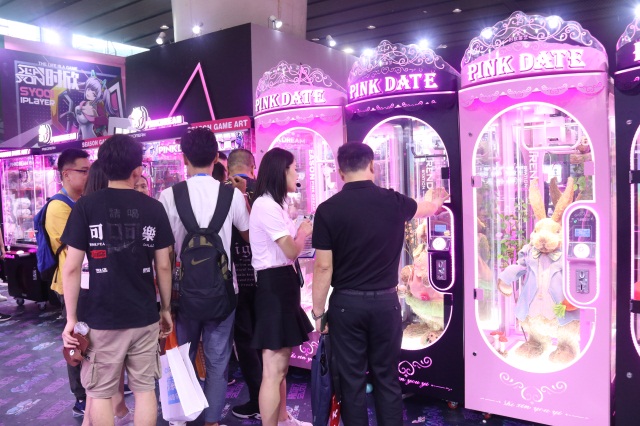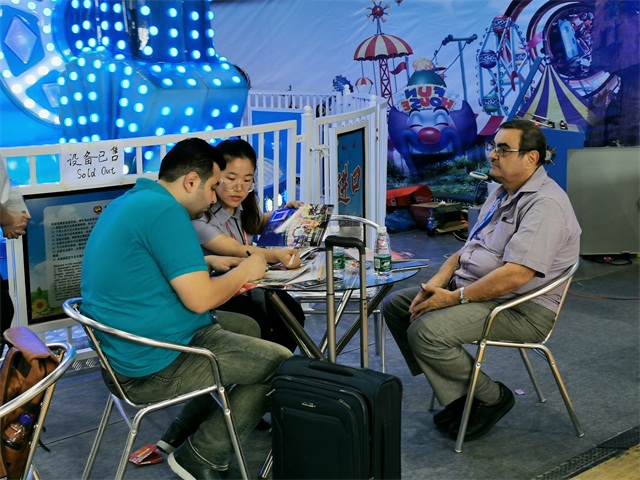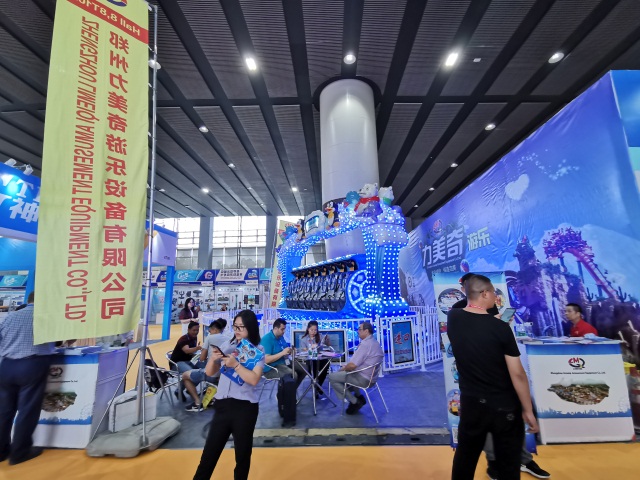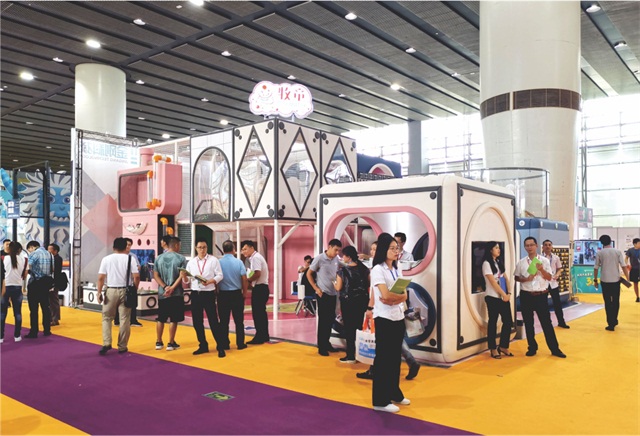 Although the recent Sino-US trade issue has had a dramatic impact on the foreign trade of amusement enterprises, most of them are still confident about industry growth and the export. This stems from China's solid material foundation, stable economic growth, rapid growth of science and technology, deepening reform and opening up, broad market and positive policies. The industry growth, enterprise growth and product upgrading are the fundamental reasons for the prosperity of the exhibition.
Besides, GTI organizing committee has attended numerous international expos this year, such as expos in Britain, Turkey, Italy, Russia, India, the UAE, Cambodia, the Philippines and the United States, Brazil, Australia, Vietnam, Thailand and so on. GTI maintains friendly relationships with internationally renowned industry associations such as the IAAPA, RAAPA, SAPAR, and IAAPI. This is also a major reason that GTI Expo attracting a great many visitor.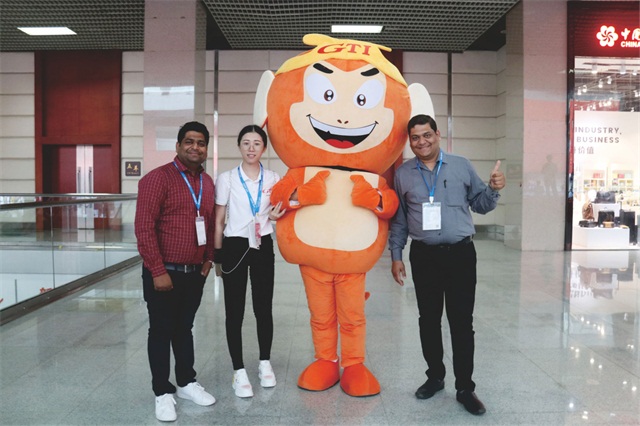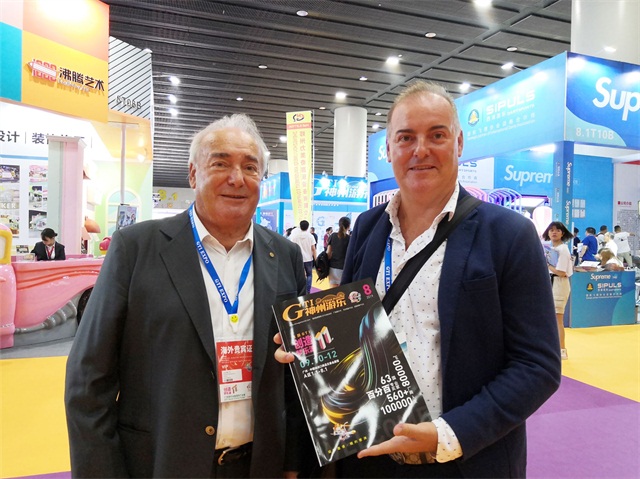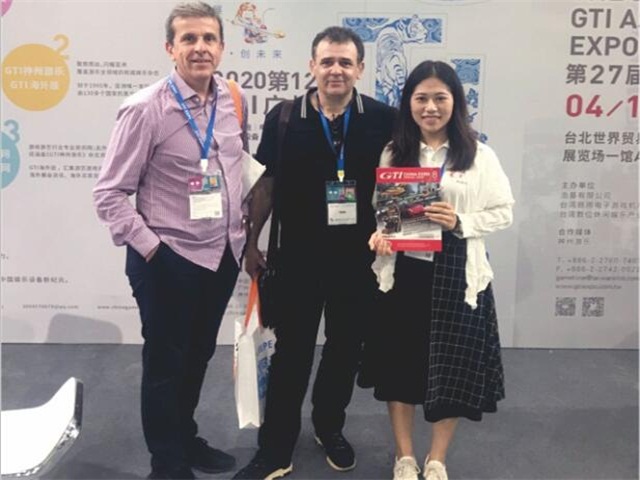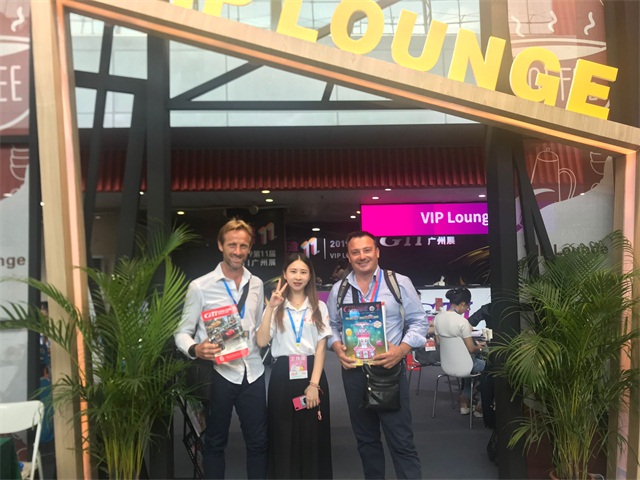 The professional buyers of this exhibition mainly came from 60 countries including China, Thailand, Myanmar, Malaysia, Philippines, Vietnam, Singapore, Indonesia, Cambodia, Japan, USA, UK, Russia, Italy, India, New Zealand, Australia and Canada, just to name a few. There were many visitors from countries along The Belt and Road Initiative, and the number of visitors reached 121,057.
This year is the 70th anniversary of the founding of China. Taking advantage of the rapid and steady growth of the economy, the 11th GTI Expo was an important step in the new decade. We will work together again to help the game and amusement industry move towards a more brilliant future next year on 9-11 September!
※The article is published in the GTI Magazine Issue No. 180 in October 2019