The 8th GTI Asia China Expo will be held at Area B, China Import and Export Fair Pazhou Complex, Guangzhou from September 9th to 11th, 2016. With 6 exhibition halls, this expo covers an area of 55,000 square meters and has over 400 exhibitors. Combined with the basics of the previous 7 editions, this expo will be infused with new concepts as well. There are altogether 5 theme zones: electronic game zone, children entertainment equipment zone, amusement park facility zone, large outdoor equipment zone and VR zone. Each zone has rich and multi-types exhibition products, to satisfy the one-stop purchasing demands of domestic and international buyers.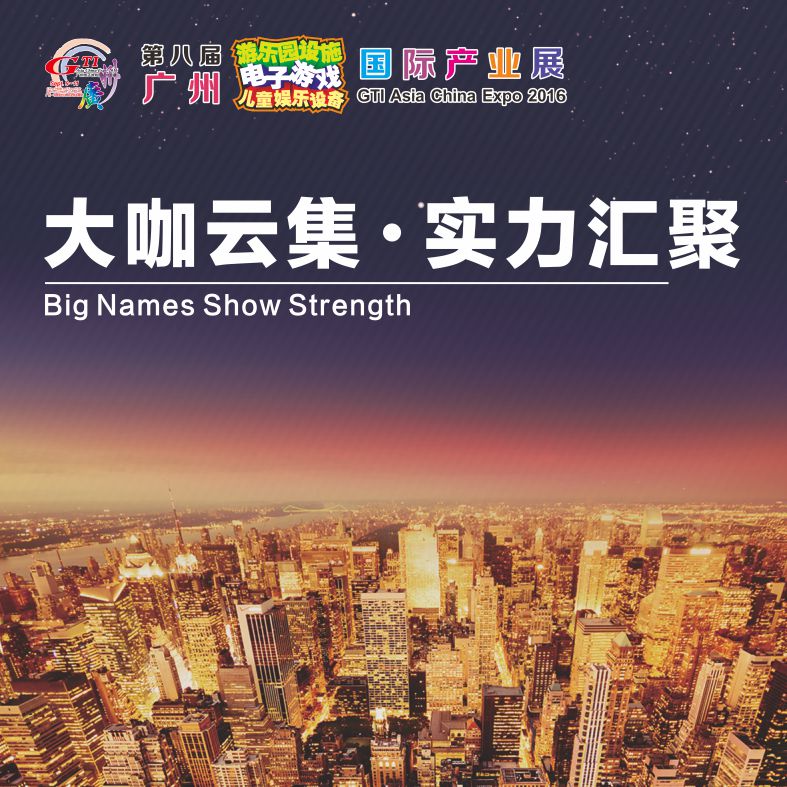 GTI Asia China Expo profile:
Date: Sept. 9~11, 2016
Venue: Halls 9.1 -13.1 & 13.2, B Zone, China Import and Export Fair Pazhou Complex, Guangzhou, China
Content: redemption, VR , carnival machine, kiddie ride, basketball machine, music machine, boxing machine & simulator, crane machine, gift machine, vending machine, parts and accessories, inflatable, theme park equipment, multi-player game machine, large game machine and coin pusher, race car machine, sports game machine, pinball machine and online game, site planning and design and wax figures among others.
Platinum Exhibitors: Elephant Sculpture Art Co., Ltd., G-Look Amusement Machine Co., Ltd. , Golden Dragon Amusement Group, Guangzhou Mecpower Electronics Co., Ltd. (Tecway), Guangzhou Sun-Wing Electronics Ltd., Guangzhou Shanzhifu Animation Technology Co., Ltd., Guangzhou ShengHua Technology Co., Ltd. , Guangzhou ShunHong Entertainment Equipment Co., Ltd., Guangzhou Song Wang Electronic Technology Co., Ltd., Guangzhou Wahlap Technology Limited, KN&U Electronics Co., Ltd., LoveYoYo Amusement (Shenzhen) Co., Ltd. , LS-Game Amusement Equipment Co., Ltd., Ocean Amusement Machine Co., Ltd., Shiyu Group & Unis Technology Co., Ltd., Suzo-Happ Group, Suzhou Fwu-Long Amusement Equipment Co., Ltd., Vogos Technology Limited, Yatta Lunta Denshi Kaisha, Yi Eel Shang Enterprise Co., Ltd. (YES), Yuan Gong Enterprise Co., Ltd., Zhejiang Mich Playground Co., Ltd., Zhongshan Guang Yang Amusement Technology Co., Ltd., Zhongshan Power Amusement Equipment Co., Ltd., Zhongshan Redsun Amusement Equipment Co., Ltd., and more…